Deadly blast strikes near Pakistan army HQ
Police and military officials say a suicide bomber was possibly involved in the attack which killed 10
Ten people were killed and 14 others wounded in a suicide bomb attack on a market near Pakistan's army headquarters in the city of Rawalpindi on Monday.
The market, a 10-minute walk from the headquarters, is supposedly one of the most secure areas in the city, Rawalpindi police chief Akhtar Hayat Lalika said.
Police and military officials said a suicide bomber was possibly involved in Monday's attack, which was powerful enough to smash windows in nearby buildings.
Infographic: Pakistan violence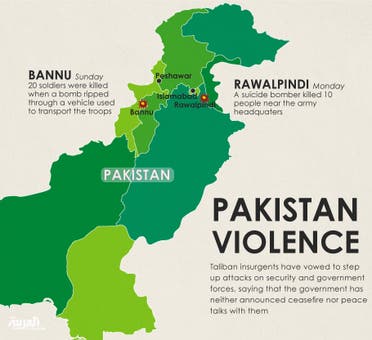 "Apparently it was a suicide attack," a military official told Agence France-Presse.
The attack comes a day after a Taliban bombing killed 20 Pakistani soldiers in North Waziristan, one of the worst attacks to hit security forces in years.
Soldiers cordoned off the area and ambulances were taking those injured to the military hospital found nearby, according to Muhammad Tuaqeer, a police officer.
Asad Malik resident in the RA bazaar area, where the attack took place, told AFP that the intensity of the blast shattered glass windows in the area.
(With AFP and Reuters)