'Electronic ping' picked up from missing plane
The electronic interference could explain the sudden disappearance of flight MH370
Satellites picked up an electronic ping from the missing Malaysian flight MH370 after it lost contact with ground control, a source close the investigation said on Thursday.
An electronic ping is a short burst of electromagnetic energy. The electronic interference, which can be natural or manmade, can damage physical objects such as buildings or aircrafts at high energy levels.
More details are now emerging regarding the disappearance of the Beijing-bound flight which was carrying 227 passengers.
A source close to the investigation also revealed that that electronic pulse picked up by satellites did not contain maintenance data nor engine maintenance data after the jet disappeared, according to Reuters.
It was also disclosed that Rolls-Royce received one engine data transmission during the normal phrase of the flight.
The plane, a Boeing 777-200, left Kuala Lumpur 41 minutes after midnight Saturday, had been due to arrive in Beijing at 6:30 am local time (2230 GMT Friday).
It disappeared from radar screens in the early hours of Saturday, about an hour into its flight from Kuala Lumpur, after climbing to a cruising altitude of 35,000 ft (10,670 meters).
No distress signal was sent from the lost plane, which experts said suggested a sudden catastrophic failure or explosion, but Malaysia's air force chief said radar tracking showed it may have turned back from its scheduled route before it disappeared.
Planes sent Thursday to search the area where Chinese satellite images showed possible remains from the missing Malaysian jetliner found nothing, according to Malaysia's civil aviation chief, quashing another lead in the now six-day hunt.
"There is nothing. We went there, there is nothing," Azharuddin Abdul Rahman told reporters in Kuala Lumpur, the Associated Press reported.
Earlier on Thursday, a search by two Vietnamese aircraft responding to Chinese satellite information has failed to find evidence of wreckage from a missing Malaysian airliner, Reuters reported an official as saying.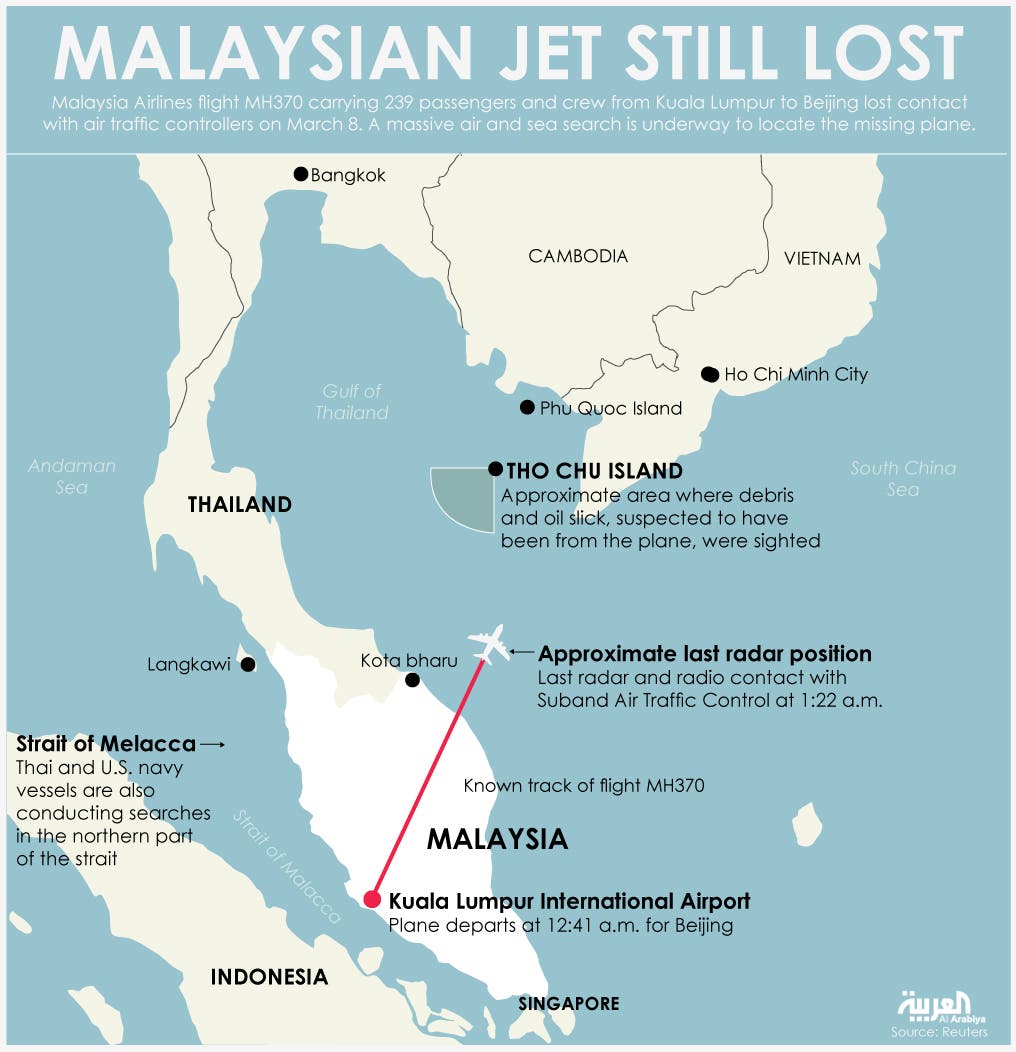 'Suspicious floating objects'
U.S. aviation investigators and national security officials believed the Boeing 777 flew for a total of five hours, citing data automatically downloaded and sent to the ground from its Rolls-Royce Trent engines as part of a standard monitoring program, the Wall Street Journal reported.
However, Malaysian authorities refuted the claim, saying that there was no evidence that the aircraft flew for hours after losing contact with air traffic controllers.

"Those reports are inaccurate," Malaysian Transport Minister Hishammuddin Hussein told a news conference according to Reuters. "The last [data] transmission from the aircraft was at 01:07 a.m. [local time] which indicated that everything was normal."
On Sunday, Vietnamese and Malaysian planes had been scanning waters where a Chinese government agency website said a satellite had photographed three "suspicious floating objects."

The location was close to where the plane lost contact with air traffic control.
Meanwhile, China's Premier Li Keqiang said on Thursday that it continue to search for the missing airliner "as long as there is a glimmer of hope," Keqiang said Thursday.
Burning with anxiety
The 239 people on board included 153 Chinese citizens, and Li told his once-a-year press conference: "Those people's families and friends are burning with anxiety," he said, in comments carried by Agence France-Presse.
Efforts to find the plane, which went missing on Saturday with 239 people on board en route from Kuala Lumpur to Beijing, gave rise to a massive search attempt across Southeast Asia.
But repeated searches have found no trace of the plane, sparking one of the greatest aviation mysteries in memory.
Fears of terrorism were stoked by the weekend revelation that two men boarded the flight using stolen European passports. But police said people-smuggling was emerging as the likeliest explanation for the identity fraud.
Authorities have doubled the search radius to 100 nautical miles around the point where flight MH370 disappeared from radar over the South China Sea.
Also on Thursday, Malaysia Airlines announced it has retired the missing jetliner's flight code – MH370 - as a sign of respect to the 239 passengers and crew on board, the Associated Press reported.
(With the Associated Press, Reuters, and AFP)