Malaysia reveals evidence of final MH370 'ping'
Despite pinpointing the location of the missing airliner, questions linger about the cause of the crash
Satellite data that included a final electronic signal from the Malaysian jetliner to the ground station before its disappearance is still being investigated, Malaysian acting Transport Minister Hishammuddin Hussein said on Tuesday.
"There is evidence of a partial handshake between the aircraft and ground station at 0019 UTC (GMT)," Hishammuddin told a news conference. "At this time, this transmission is not understood and is subject to further ongoing work."

Initial analysis of satellite "pings" placed the plane's final position somewhere in two vast arcs which stretched from the Caspian Sea to the southern Indian Ocean.
However, Prime Minister Najib Razak announced on Sunday that British company Inmarsat revealed groundbreaking satellite-data analysis that showed Flight MH370 had crashed in the southern Indian Ocean.
Search suspended
Gale force winds, rain and huge waves have forced the air and sea search for Malaysia Airlines flight MH370, which crashed in the Indian Ocean, to be suspended, the Australian Maritime Safety Authority said.

"AMSA has undertaken a risk assessment and determined that the current weather conditions would make any air and sea search activities hazardous and pose a risk to crew," it said.

"Therefore, AMSA has suspended all sea and air search operations for today due to these weather conditions."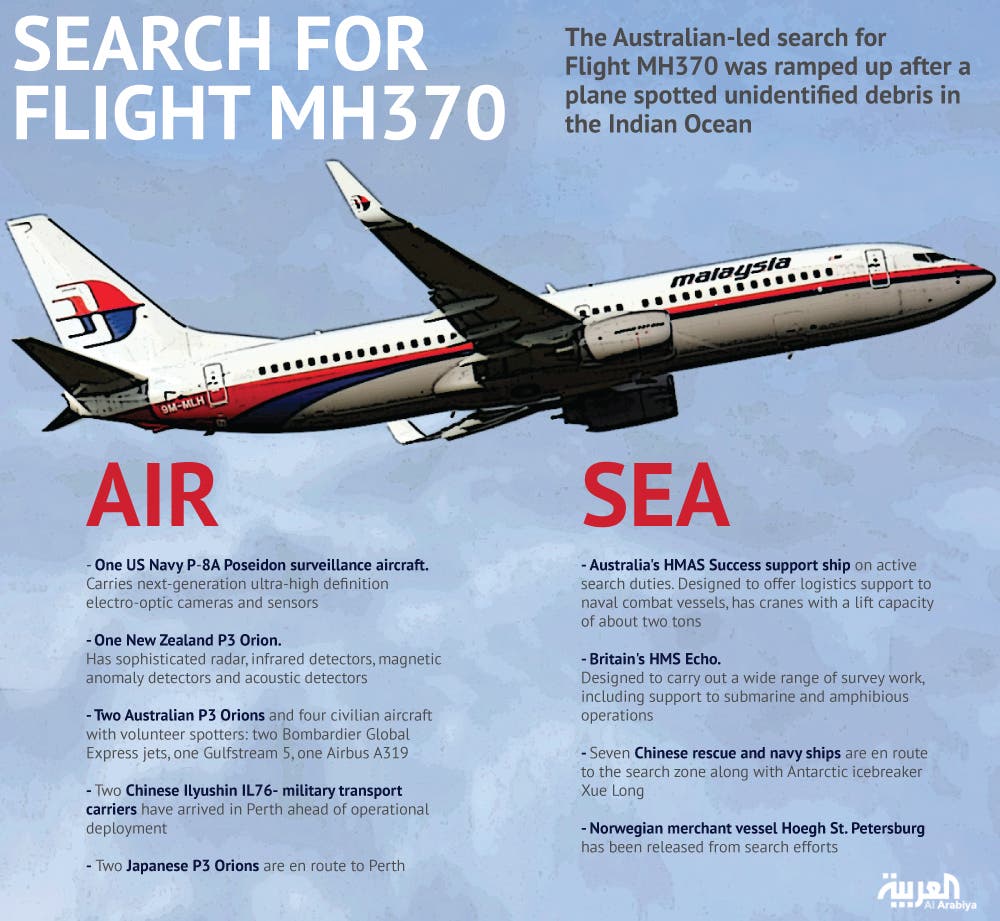 According to the statement, the gale force winds are of up to 80 kilometers per hour and were whipping the area along with heavy rain and low cloud with a ceiling between 200 feet and 500 feet.
The announcement came a day after Malaysian authorities confirmed that the missing airliner had crashed when it disappeared on March 8.
The news extinguished the hopes of relatives of the 239 people on board but shed no light on why it veered so far off the course during the planned flight from Kuala Lumpur to Beijing.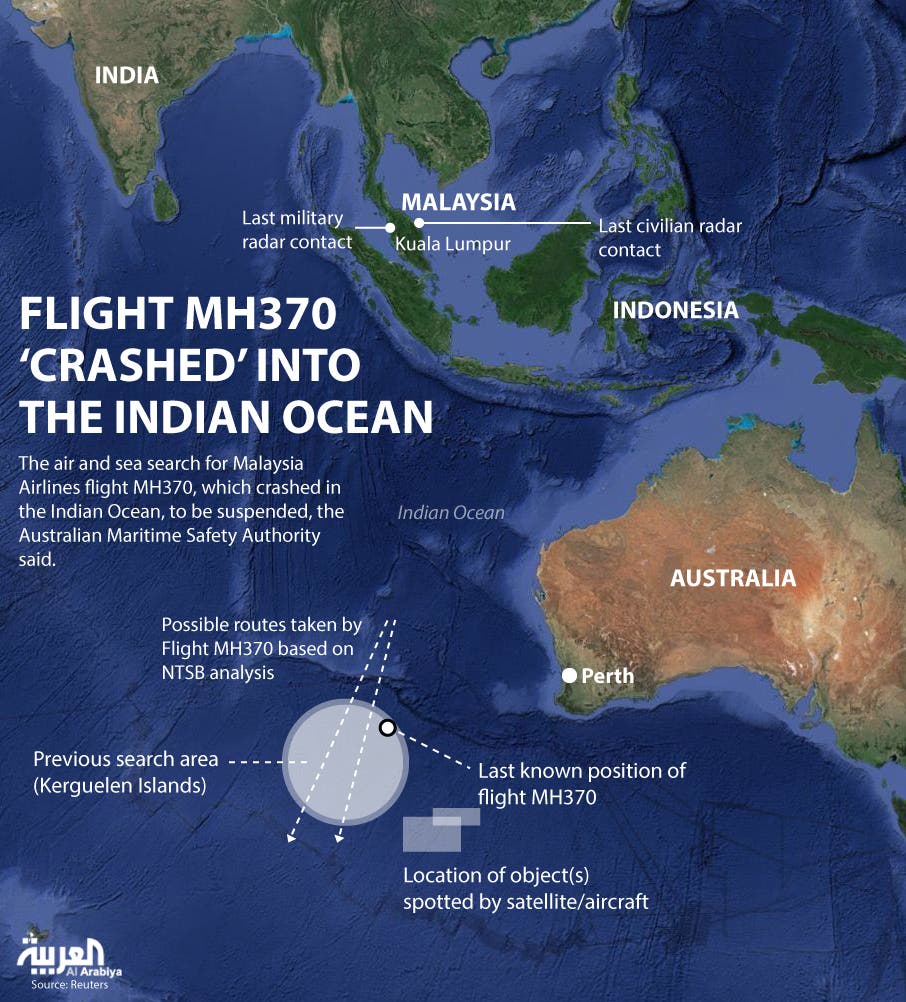 Malaysian Prime Minister Najib Razak said a new analysis of satellite data on the flight's path placed its last position in remote waters off Australia's west coast, far from any possible landing sites.

Hopes had been high that wreckage would be found Tuesday after two new objects -- a green circular item and an orange rectangular one -- were spotted on Monday by an Australian military plane.

This followed larger "white and square" objects seen by a Chinese Ilyushin IL-76 reconnaissance plane, which came after satellite images and data captured by Australia, China and France in recent days showed indistinct items in the southern Indian Ocean.
"Last night, (Australian ship) HMAS Success attempted to locate objects sighted by a RAAF P3 Orion aircraft," aMSA said.

"Drift modeling was undertaken to assist search efforts. HMAS Success was unable to relocate the objects."
Backlash
Meanwhile, Najib's announcement flew further flak. In Beijing, some relatives of passengers vented their anger, decrying Malaysian authorities as "murderers."

And China's deputy foreign minister demanded authorities in Kuala Lumpur hand over the new satellite data.

Malaysia Airlines was also criticized for informing some next-of-kin in a text message that the plane was lost with no survivors.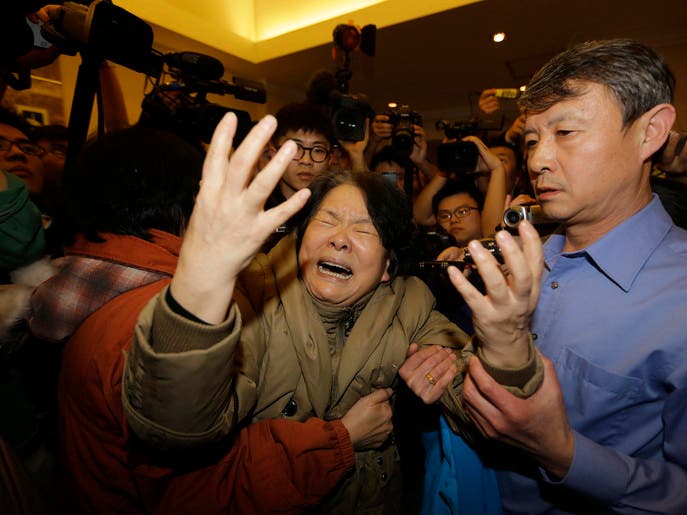 The airline said most families were told in advance of Najib's statement in person and by telephone, with SMS used only as an additional means.
Online criticism abounded, together with messages of condolences for the victims -- two-thirds of them from China.

"How can Malaysian government declare flight 'ended' in Indian Ocean but with no physical evidence?? #MH370 #dontbelieveit," one user posted.

"Malaysian airlines and government concealed and delayed information then tells news of dead relatives by text. #disgusting #MH370," another said.