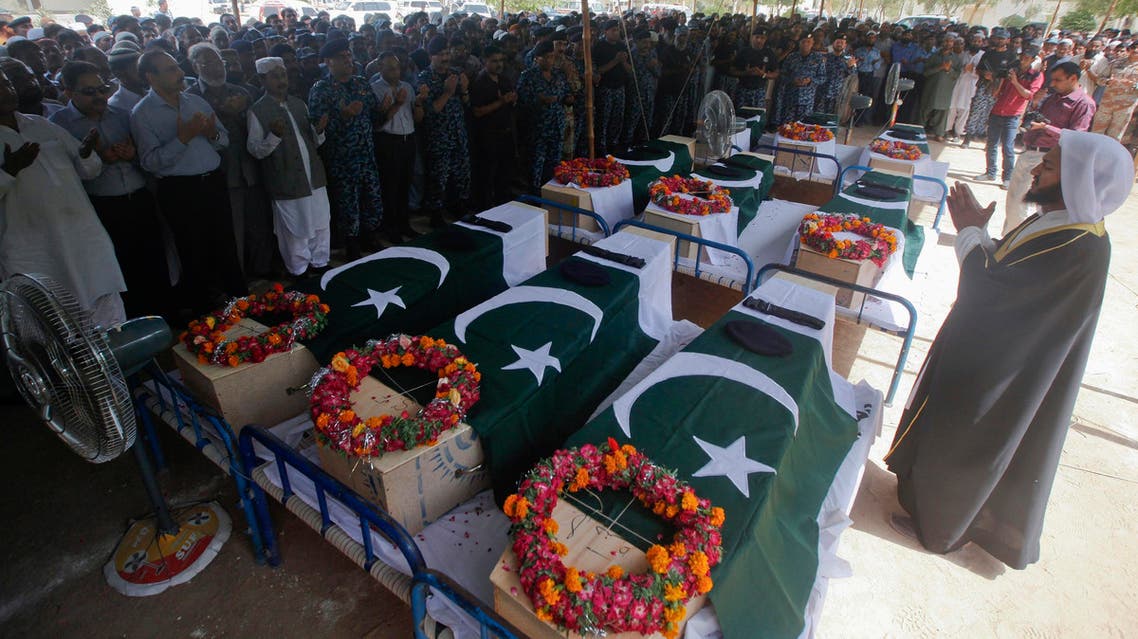 Fresh gunfire at Pakistan airport after 27 killed
Gunfire resumes at Karachi airport several hours after security forces announced end of a Taliban siege that left 27 dead
Pakistan's security forces relaunched on Monday a military operation at Karachi airport after Taliban militants disguised as security forces killed 27 people in a dramatic night-long battle at one of the country's most high-profile targets.
"We have relaunched the operation and called in additional troops," Agence France-Presse quoted Sibtain Rizvi, spokesman for the Rangers paramilitary force, as saying on Monday.
He added that one police officer had been wounded in the firing.
The assault on Jinnah International Airport in Karachi, Pakistan's sprawling commercial hub of 18 million people, all but destroys prospects for peace talks between the Pakistani Taliban and the government of Prime Minister Nawaz Sharif.

It also deals a heavy blow to Sharif's efforts to attract foreign investors to revive economic growth and raises questions about security at the country's main installations.
"The main goal of this attack was to damage the government, including by hijacking planes and destroying state installations," Reuters quoted Shahidullah Shahid, a Taliban spokesman, as saying on Monday.
An AFP reporter at the scene said gunshots could be heard inside the airport and that rangers and elite commandos were rushing inside.
In a possible change of tack, the Taliban said their mission was to hijack a plane - a break from their usual pattern of roadside bombs and suicide bomb attacks.

The violence began just before midnight when 10 gunmen wearing military uniforms and armed with automatic rifles and rocket-propelled grenades shot their way into the terminal building after arriving at the cargo terminal in two mini-vans.

The militants then split into two groups, with one attacking a gate called Fokker to create a diversion and the other storming the cargo terminal, police said.

"They operated in pairs. That's why their bodies were found lying in pairs," senior police officer Raja Umar Khattab told Reuters, adding the militants had fired rockets at passenger planes but missed. "It seems there was some ill-planning on their part."

Officials said no aircraft had been damaged.
More attacks elsewhere
Just hours after Taliban militants stormed the airport, a suspected Taliban suicide bomber rammed a truck into a Pakistan military checkpoint on the border with Afghanistan on Monday, killing four soldiers, military officials said.
One military source said seven soldiers were wounded.
The assault, which took place in Pakistan's North Waziristan tribal region,
"The death toll could increase," a military official told Reuters.
Attack near Iran border
In separate, unrelated violence, 24 Shiite Muslim pilgrims were killed in a suicide attack near Pakistan's border with Iran, an official said. A radical Sunni Moslem group claimed responsibility.

No group immediately claimed responsibility for the attack but the officials said the Pakistan Taliban were responsible.

(With AFP and Reuters)