Police: Gunmen kill eight people on bus in southwest Pakistan
Gunmen opened fire on a bus carrying Shiite Muslims in the southwestern city of Quetta on Thursday
Gunmen opened fire on a bus carrying Shiite Muslims in the southwestern city of Quetta on Thursday, killing eight of them, just days ahead of the holy month of Muharram, police said.

The latest sectarian violence happened at a fruit and vegetable market on the outskirts of the city, capital of restive Baluchistan province.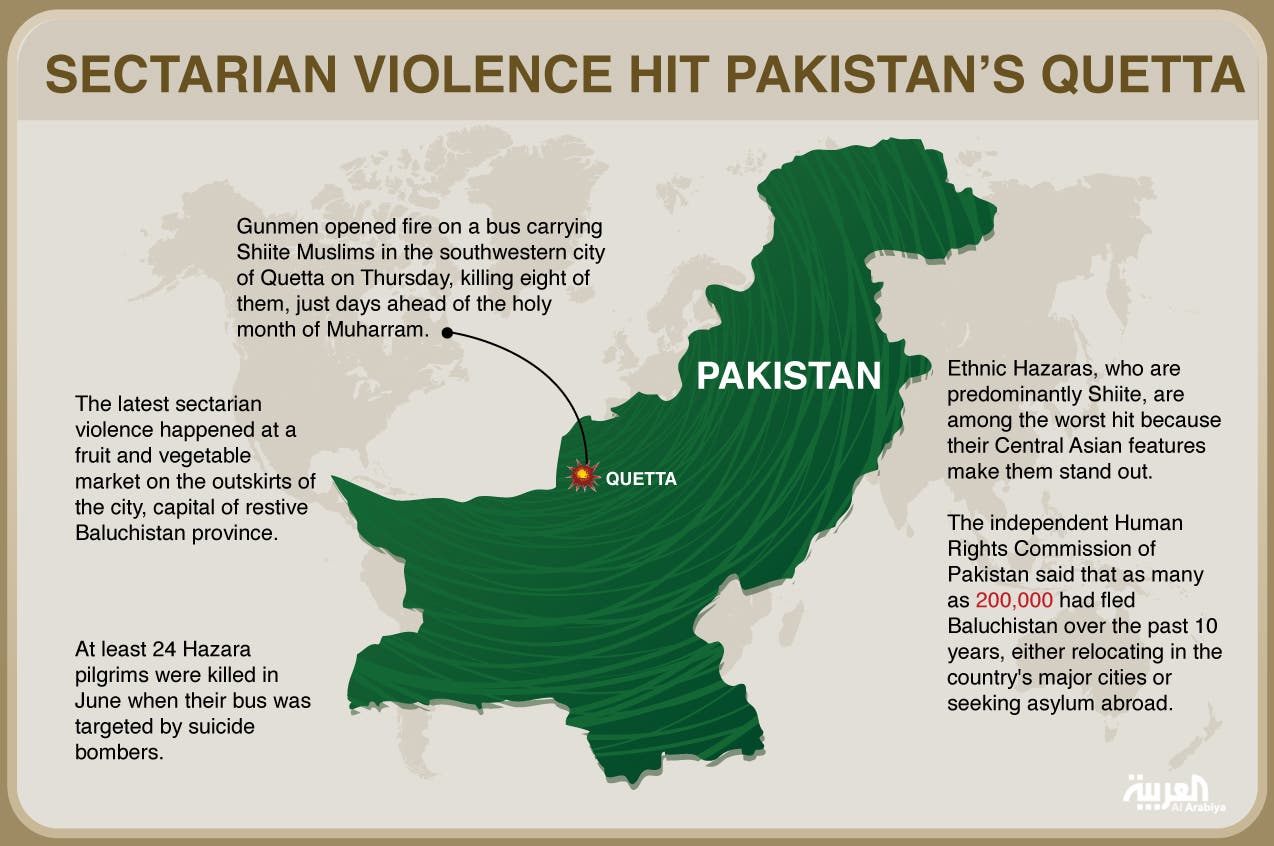 "At least nine Hazara Shiites were sitting in a minibus after buying vegetables when two gunmen opened fire on them with automatic weapons, killing eight of them and wounding another one," senior local police official Imran Qureshi told AFP.

City police chief Abdul Razzaq Cheema also confirmed the incident and casualties.

The Islamic month of Muharram, considered particularly holy for Shiites, is due to begin on Saturday or Sunday depending on the sighting of the new moon.

It has frequently been marred by violence in recent years. Clashes between Sunnis and Shiites led to at least 11 deaths in the city of Rawalpindi, close to the capital Islamabad, last November.

Ethnic Hazaras, who are predominantly Shiite, are among the worst hit because their Central Asian features make them stand out.

The independent Human Rights Commission of Pakistan said that as many as 200,000 had fled Baluchistan over the past 10 years, either relocating in the country's major cities or seeking asylum abroad.

At least 24 Hazara pilgrims were killed in June when their bus was targeted by suicide bombers.

Two devastating bombings in Quetta targeting the city's Shiites killed nearly 200 people last year and were claimed by LeJ, which has links to Al-Qaeda.

Vast and sparsely populated but rich in resources, Baluchistan has long been racked by a separatist insurgency that has strong leftist secular elements and reveres Communist icons like Argentine revolutionary Ernesto "Che" Guevara.

But it has also been steady radicalized over the years. Analysts believe the military establishment is tacitly backing militant groups in order to undermine the influence of separatists.