Pakistan Shiites mourn 61 killed in mosque bombing
The blast hit the mosque in the Shikarpur district of southern Sindh province
Thousands of Shiite Muslims rallied Saturday to protest the killing of 61 people in a suicide bombing at a mosque, as southern Pakistan shut down to mourn the nation's worst sectarian attack in nearly two years.

The blast hit the mosque in the Shikarpur district of southern Sindh province, around 470 kilometers north of Pakistan's biggest city Karachi, as hundreds of worshippers attended Friday prayers.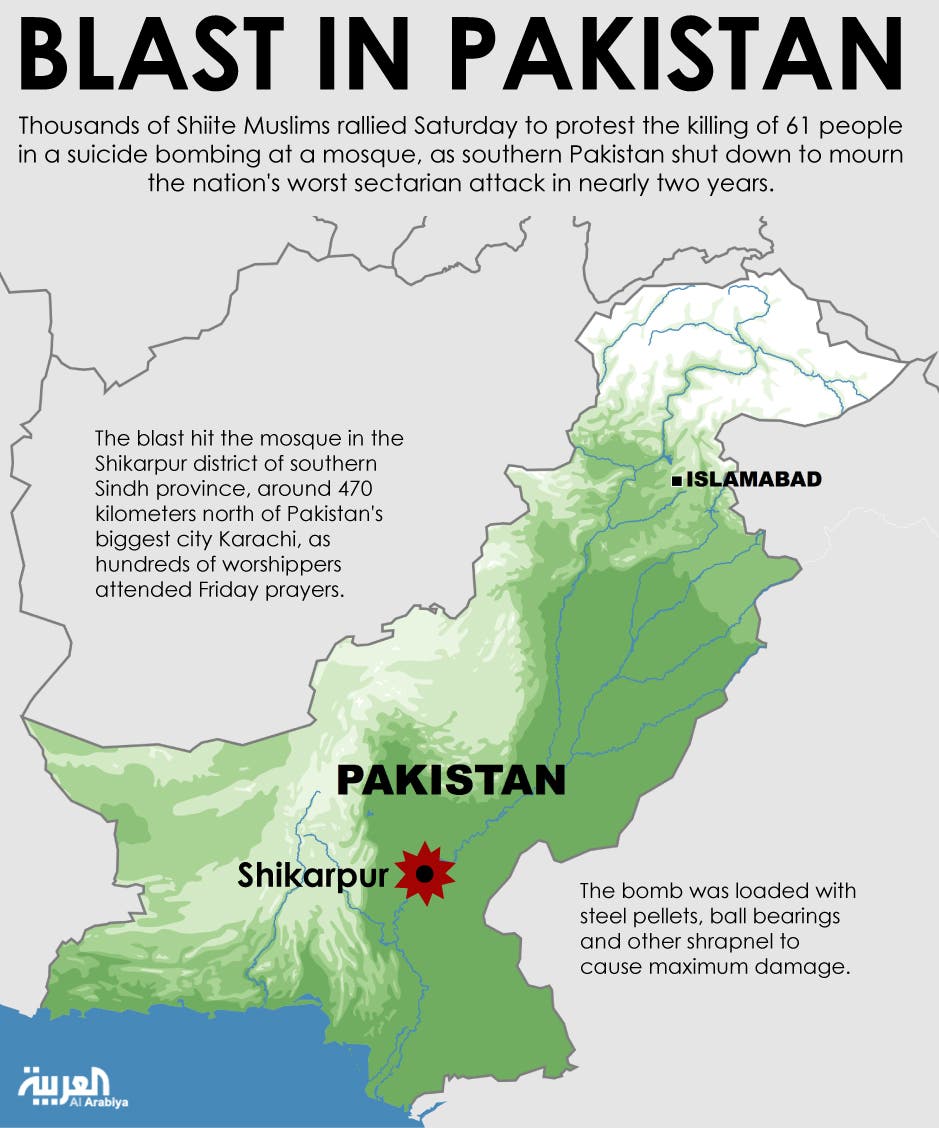 Police on Saturday said the devastating explosion was a suicide attack and the bomber detonated the explosives strapped to his body "in the middle of the mosque".

"The bomber selected a place in the mosque that would cause huge destruction," Raja Umar Khitab, a police official in Sindh's counter-terror department, told AFP on Saturday.

Khitab said the bomb was loaded with steel pellets, ball bearings and other shrapnel to cause maximum damage.

The provincial government announced Saturday as a day of mourning, closing schools, shops and offices, with no public transport available on the roads.

In Shikarpur, thousands gathered to attend funeral prayers for the dead.

Local television broadcast footage of thousands of people, mostly Shiite Muslims, carrying black flags and beating their chests as they offered their prayers one after another.

Karachi, Pakistan's economic heart and Sindh's provincial capital, also shut down for the day, with hundreds of Shiites staging protest rallies.

Police said unidentified "miscreants" early Saturday set fire to a passenger bus and a truck in the city, but no one was hurt.

Pakistan has suffered a rising tide of sectarian violence in recent years, most of it perpetrated by hardline Sunni Muslim groups against minority Shiites, who make up around 20 percent of the population.

Friday's bombing was the bloodiest single sectarian attack in Pakistan since March 2013, when a car bomb in a Shiite neighborhood of Karachi killed 45.

A spokesman for the shadowy Jandullah militant group, a splinter faction of the Pakistani Taliban, said they were behind the latest blast.

Around 1,000 Shiites have been killed in the past two years in Pakistan, with many of the attacks claimed by the hardline Sunni group Lashkar-e-Jhangvi (LeJ).

Pakistan has stepped up its fight against militants in the past month, following a Taliban massacre at a school in the northwestern city of Peshawar.

Heavily armed gunmen went from room to room at the army-run school gunning down 150 people, most of them children, in an attack that horrified the world.

Since then, the government has ended a six-year moratorium on executions in terror-related cases and pledged to crack down on all militant groups.