Pakistan heat wave death toll passes 1,000
Morgues and gravediggers in Karachi have struggled to keep up with the flow of bodies
The death toll from Pakistan's killer heat wave rose past 1,000 on Thursday, with more fatalities expected, as cloud cover and lower temperatures brought some relief to the worst-hit city Karachi.
Morgues and gravediggers in Karachi, Pakistan's largest city and economic hub, have struggled to keep up with the flow of bodies since the scorching temperatures began last weekend.
Hospitals have been on a crisis footing and dedicated heatstroke treatment centers have been set up around the city to treat the tens of thousands affected by heatstroke and dehydration.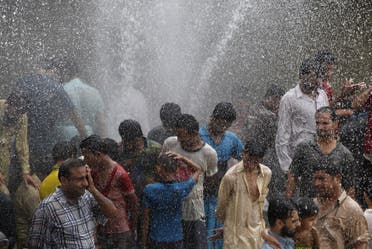 "The death toll is more than 1,000 and it may reach up to 1,500," Anwar Kazmi, a spokesman for the Edhi Foundation, Pakistan's largest welfare charity and a leading provider of emergency medical care in Karachi, told AFP.
According to figures collected by AFP from hospitals around the city, a total of 1,079 people have died as a result of the heat wave.
Karachi hospitals have treated nearly 80,000 people for the effects of heatstroke and dehydration, according to medical officials.
After days of temperatures hovering at highs in the mid-40s Celsius (around 110 Fahrenheit), sea breezes and cloud cover have brought some respite to the port city in the last two days.
Infographic: Pakistan heat wave death toll reaches 800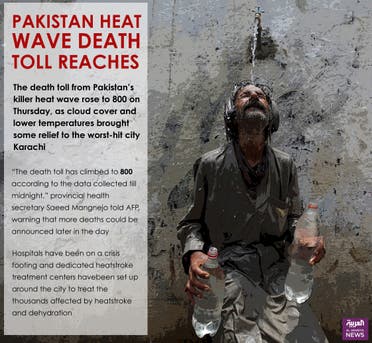 The Met Office forecast temperatures of around 34 degrees Celsius on Thursday, with 75 percent cloud cover.
The Edhi Foundation said their mortuaries in the city had received such an influx of bodies that they were struggling to keep them properly chilled.
Victims' families have also faced challenges in burying their dead, as grave-diggers have struggled to keep up with demand in the scorching heat.
While temperatures of 45 C and higher are not uncommon in parts of inland Pakistan, Karachi normally remains cooler thanks to its coastal location.
This year's heat wave has also coincided with the start of the Islamic fasting month of Ramadan, during which millions of devout Pakistanis abstain from food and drink from sunrise to sunset.
Under Pakistani law, it is illegal for Muslims to eat or drink in public during daylight hours in Ramadan.
The majority of the deaths in Karachi have been among the elderly, the poor and manual laborers who toil outdoors, prompting clerics to urge those at risk of heatstroke not to fast.
Doctor Qaiser Sajjad of the Pakistan Medical Association in Karachi said that a lack of understanding of heatstroke among the public -- how to spot symptoms and treat them -- had contributed to the deaths.
"The main reason was a lack of awareness among the public -- no-one knew how to cope in such a situation," he told AFP.
The situation has not been helped by power cuts -- a regular feature of life in Pakistan -- which have stopped fans and air conditioners from working and interrupted Karachi's water supply.