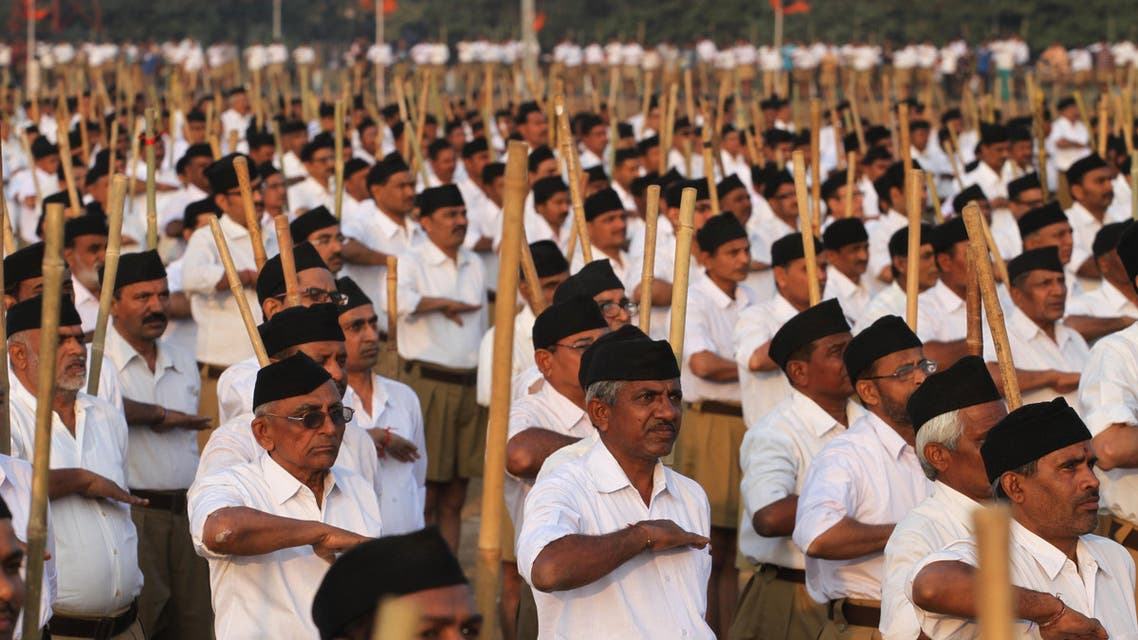 Hindu nationalists gather for massive India rally
More than 150,000 activisits registered for the rally where RSS Chief Mohan Bhagwat is going to deliver a speech
Tens of thousands of Hindu hardliners, dressed in khaki shorts, white shirts and black hats, gathered for an elaborate rally in western India on Sunday in a massive show of strength.
It was set to be one of the largest ever gatherings of the controversial Rashtriya Swayamsevak Sangh (RSS), a group seen as the ideological parent of Indian Prime Minister Narendra Modi's ruling Bharatiya Janata Party.
More than 150,000 activists, almost all men, had registered for the rally at which RSS Chief Mohan Bhagwat was due to deliver a speech from a stage designed to resemble a fort.
A marching band composed of 2,000 RSS volunteers was also scheduled to play. A giant saffron flag, the colour most associated with Hinduism, was to be hoisted on a post over 20 metres high at the 450-acre rally site in Pune, Maharashtra state.
Analysts say the RSS's influence has never been greater following the election in May 2014 of Modi, a former RSS foot-soldier. Attendees, who arrived in their hordes throughout the morning, were in bullish mood.
"People in the RSS look up to Modi as an example of what we can become. He gives our organisation a great image," Vinayak Deshpande, 32, told AFP.
Another volunteer, who asked not to be named, said the RSS had witnessed a 20 percent increase in activists since Modi became prime minister.
"With Modi as prime minister the RSS is on the right track," he said.
The RSS, formed in 1925, is India's biggest grassroots religious organisation and is believed to have around five million activists, known as "Swayamsevaks".
It styles itself as a cultural organisation devoted to protecting India's Hindu culture but critics accuse it of being an anti-Muslim pseudo-fascist organisation with a history of fuelling religious tensions.
The RSS is notoriously secretive -- volunteers do not formally register as members and communications are often done verbally. Sunday's event was rare for its size and for its open invitation to the media.
Pravin Dabadghav, a senior RSS official in Maharashtra who helped organise the gathering, said it was set to be the largest ever meeting of RSS volunteers in western and southern India.
The previous high was in 2010 when 90,000 attended a gathering in Kerala.
The RSS has been banned three times in post-independence India, including after a former member assassinated Mahatma Gandhi in 1948 and following the 1992 demolition of a mosque in Ayodhya which led to deadly nationwide riots.
It favours a uniform civil code for India rather than personal laws for different religions, the protection of cows -- which are sacred to Hindus -- and the construction of a temple on the disputed Ayodhya site.
Modi helped the group out as a boy and became a full-time volunteer as a young adult, taking the requisite vow of celibacy, for more than 15 years before joining the Bharatiya Janata Party.