Security forces on alert ahead of tense Philippine elections
Security forces fanned out across the Philippines on the eve of national polls
Security forces fanned out across the Philippines Sunday on the eve of national polls, following a vicious and deadly election campaign dominated by presidential favourite Rodrigo Duterte's threats to kill thousands of criminals.

Surveys show Duterte, mayor of the southern city of Davao, has a clear lead in Monday's presidential elections as millions of voters embrace his threats to unleash security forces in an unprecedented crime spree, and shut down Congress if lawmakers oppose him.

President Benigno Aquino, who is limited to a single six-year term, has likened Duterte to Nazi leader Adolf Hitler and warned of a looming dictatorship, with the presidential tensions fuelling an already volatile and violent political culture.
Infographic: Fact box: Philippines elections 2016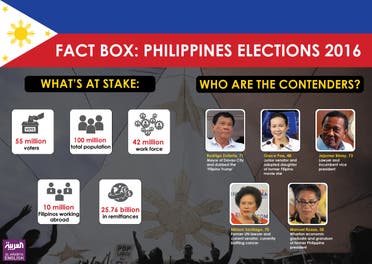 "Their rhetoric is quite vicious, their exchanges are quite vicious and this is a signal to a lot of supporters to up the ante and be more aggressive," Eric Alvia, head of the watchdog group, National Citizens Movement for Free Elections, told AFP.

"This campaign has been divisive and its polarising a lot of people. They (feel they) can do whatever they want."

Duterte has accused Aquino's administration of planning "massive cheating" to ensure that his preferred successor, former interior secretary Mar Roxas who surveys show is trailing in second place, wins.

His followers have warned of a "revolution" if Duterte loses, while military-linked figures have threatened a possible coup attempt if he wins.

Alvia said that the violence was largely taking place on the local levels, but with the leaders' angry rhetoric fuelling matters.
At least 15 people have died in election-related violence this year, according to national police statistics.