Saudi students feel unease in Trump's America
Hate crimes against Muslims in the US has risen by 67 percent in 2015 to their highest levels since the aftermath of the 9/11 attacks
Saudi student Khalid al-Qhes al-Shammeri was excited to be finally graduating from Robert Morris University in Pittsburg, Pennsylvania, in December. He had also been accepted for a Master's degree starting in the new year.
But that might be changing because of the rise in Islamophobia in Donald Trump's America.
Earlier this month, a week before Republican Trump officially won the elections, Saudi student Hussain Saeed al-nahdi, 24, died after being brutally assaulted overnight on a street in downtown Menomonie, Wisconsin.
"Many Saudis are watching their backs. These things are actually happening. We cannot even deny it at this point," Shammeri told Al Arabiya English.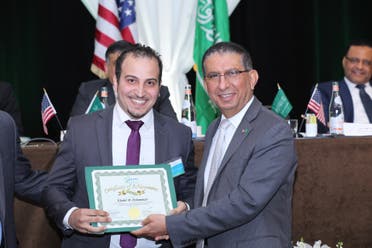 "A few days ago, there was a guy on the side of the road who looked like he needed help. But I thought twice about stopping to help him, and I passed instead. It's too dangerous these days," he said.
Rise in hate crimes
Hate crimes against Muslims in the US has risen by 67 percent in 2015 to their highest levels since the aftermath of the September 11, 2001 attacks, according to new FBI statistics.
There were 257 incidents of anti-Muslim bias in 2015, compared with 154 the previous year. The number is second only to the surge in hate crimes following the 9/11 attacks in 2001, when 481 incidents against Muslims were reported.
Al-Nahdi is not the first Saudi student to have been killed while studying in the US. In September 2014, the body of 23-year-old Abdullah al-Kadi was found 150 kilometers away from his house. Agustin Rosendo Fernandez was charged for this murder after stabbing al-Kadi to death.
"The death of the Saudi student Hussain Saeed al-Nahdi in Wisconsin was a horrific crime. Although he passed away before Trump became president-elect, we are still feeling the aftershocks now," Saudi journalism graduate Jasmine Bager told Al Arabiya English.
Bager, who recently completed her Master's degree in Journalism at Columbia University in New York city, was present on the night of Trump's victory. She has witnessed the subsequent protests that have erupted following his win.
"There is always turbulence and uncertainty whenever citizens and residents are introduced to a new leader. Trump has been a uniquely controversial presidential candidate from the start because he was candid about his aggressive views on who/what is 'American' and who deserves to reside in his country," she said.
To stay or to leave?
After India and China, Saudi Arabia is the third largest country to send international students to the US, according to a recent report. Students from those three countries represent approximately 53 percent of the total enrolment of international students.
International students bring in nearly $36 billion to the US economy, according to the US Department of Commerce.
But that data might change as Trump has vowed to put in place harsher border controls and a registry of Muslims as part of his administration's policies.
If it is difficult enough for male Saudi students, their female counterparts told Al Arabiya English of an increase in attacks, especially toward those who wear the Islamic veil hijab.
"While it did not happen personally to me, I know a lot of my Saudi female friends in university who were attacked by students who wanted to snatch their hijabs away," Ruba al-Balwi, a sophomore majoring in political science at the University of Tennessee, told Al Arabiya English.
"While I still have two more years to go, many of my family members are urging me to come back. They keep hearing stories about attacks and are obviously worried," she said.
Asked whether she would consider leaving, Balwi said she would "wait and see until how things shape up."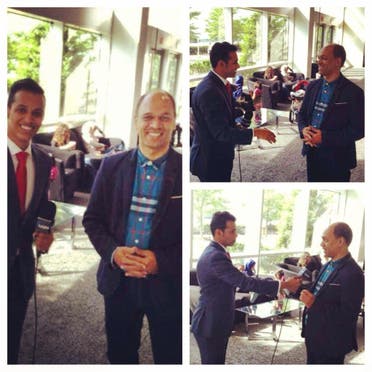 For many Saudi students, especially those who major in political science, Trump's campaigning for the presidency for the past year and a half was not taken seriously.
"Many have not taken his anti-Muslim statements, among others things he's said, as threats while others chose to completely ignore the situation and focus on their studies instead," said Ibrahim Faqeeh, a communications student at Marymount University.
"But many are hoping that American democracy has so many regulations to keep President-Elect Trump in check, but that remains to be seen," he added.
While foreign Muslim students are feeling the brunt of hate crimes at campuses across Republican states in the country, students at liberal states like New York have not been exempt.
Less than two days after Trump was elected president, an image of "TRUMP" was scrawled onto the door of a Muslim prayer room at NYU's Tandon School of Engineering. That has obviously shaken Aisha Javaid, a Muslim-American student from California.
"I was raised in California and I felt secure in my identity of being a Muslim-American. Ever since the election and moving here, it makes you feel insecure. One is not really sure what is going to happen,"
But it is not all bad news for students across the US. Balwi said that at her university in Tennessee, a state that overwhelming voted Red during the elections last week, many strangers and professors have come to help Saudi and Arab students.
"A friend of mine found a random note in her bag the other day saying she was welcome here and that there was support for students like us here. The university has sent us emails reminding us that our safety is very important. So that made a lot of us feel secure," she said.
Asked if he will register and attend the master's program in January, Shammeri - who Al Arabiya English spoke to earlier in the piece - says: "I doubt it".