UAE conference: Ancient sites need protection in war
Representatives from dozens of countries met to discuss the creation of a $100-million fund to protect and restore heritage sites
Representatives from dozens of countries began meeting in Abu Dhabi on Friday to discuss the creation of a $100-million fund to protect and restore heritage sites threatened by extremism and conflict.
The two-day conference reflects growing international alarm over the destruction of ancient artifacts by extremists.
The conference opened with calls by its Emirati, French and UN initiators for joint action to safeguard cultural treasures in danger.
"To succeed, we need to work together… united for heritage," UNESCO Director General Irina Bokova told participants.
Protecting heritage "is inseparable from protecting human life," she said, describing its deliberate destruction as a "war crime".
The chairman of the Abu Dhabi Tourism & Culture Authority, Mohamed Al-Mubarak, said the international initiative "will help change the course of history."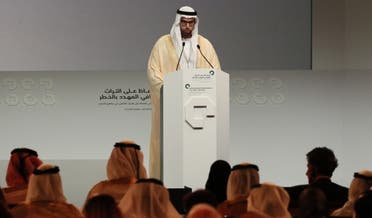 Despite repeated assertions from extremist groups, Islam has never endorsed the destruction of heritage, said Dr. Mounir Bouchenaki, a prominent cultural heritage expert.
This verdict, reached by a group of eminent Islamic law experts in December 2001 at a UNESCO conference in Qatar, needs to be highlighted in the light of recent events in the Middle East, said Bouchenaki, former director of the World Heritage Center at UNESCO.
"Islam never encourages the destruction of works of the past that are considered elements of knowledge and reference," Gulf News daily quoted Bouchenaki as saying.
"Sadly, the latest events in Iraq, Syria, Yemen and Libya show that many (warring parties) have no respect for the cultural heritage or even the lives of people," he added.
Bouchenaki explained that cultural heritage, including works of art and records, are often lost during conflicts as a result of the overall devastation. But there is also intentional burning of libraries, looting of museums and the illegal evacuation of archaeological sites, as evidenced during the Iraq War that began in 2003.
"[During a visit] with experts, we saw that 15,000 items had been stolen from shelves at the Iraqi museum, and looting has increased exponentially since the beginning of the conflict in Iraq," he said.
Emergency operations
He therefore advised that the international community, in coordination with local professionals, carry out emergency operations (to preserve) cultural heritage in times of war.
"The director-general of museums and antiquities has announced that the majority of the artifacts of 34 national museums in Syria have been transferred to secure warehouses. Then again, we don't yet know how many artifacts are being illegally excavated in both Syria and Iraq and being sold on illegal markets," the expert said.
He, however, infused a note of hope, saying that it is possible to restore much of the tangible cultural heritage with the required political will and finances.
"A lot has been lost and the (restoration) work is immense. But there is always something to be recovered," Bouchenaki stressed.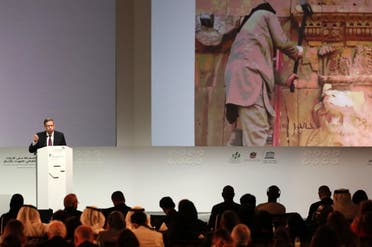 On the eve of the meeting, five Nobel prize winners launched an appeal for urgent action to safeguard world heritage sites, pointing to the irreparable damage wreaked in Iraq, Syria, Afghanistan and Mali.
"Part of our history has been lost forever, with the goal of fanaticism being to undermine our hope for the future," said the statement from Aung San Suu Kyi, Kofi Annan, Ellen Johnson Sirleaf, Orhan Pamuk and Mario Vargas Llosa.
The United Nations Educational, Scientific and Cultural Organization says 55 out of a total of 1,052 heritage sites around the world are listed as World Heritage in Danger.
They include the Crac des Chevaliers castle and the ruins of Palmyra in Syria, the archaeological remains of the Bamiyan Valley in Afghanistan, the old city of Sanaa in Yemen, and Timbuktu in Mali.
The conference aims to create "a broad coalition of partners connecting the dots between the security, humanitarian and cultural issues with so many organizations and governments" taking part, said Bokova.
Delegates from around 40 countries, including more than a dozen heads of state or government, among them several Gulf monarchs, are attending the gathering, which is based on an initiative led by France and the United Arab Emirates.
French President Francois Hollande and Abu Dhabi Crown Prince Sheikh Mohammed Bin Zayed Al-Nahyan, whose countries will be key contributors to the fund, will make closing speeches on Saturday.
Concrete action
Former French culture minister Jack Lang, who heads the Paris-based Institut du Monde Arabe, said the conference "will launch concrete action" such as the creation of a fund to help cover the cost of transporting, safeguarding and restoring affected monuments — including using 3D reconstruction.
France will contribute $30 million to the fund, Lang has said. It will be formed as an "independent legal entity", according to a preparatory document that says it will likely be established in Geneva from 2017.
The conference also aims to establish "refuge zones" around the globe for endangered works of art, according to organizers.
The proposed partnership would include governments, public institutions, private groups, non-governmental organizations and experts.
A French official described the initiative as the "cultural counterpart" of the international military and political war on terrorism.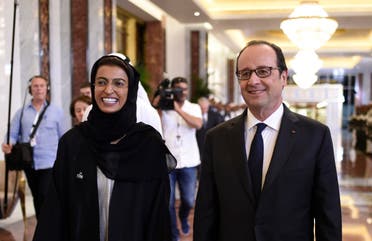 Hollande, who has called for "asylum rights for artifacts", last month announced that a safekeeping facility is to open in northern France in 2019.
In addition to housing the Louvre Museum's stored collection, it could also be a refuge for endangered artworks.
France is expected to make the proposal during the Abu Dhabi conference.
The Louvre Abu Dhabi, whose delayed opening is now expected in 2017, "could also become a refuge zone" for threatened artifacts, a French official said.
Hollande will visit the Louvre Abu Dhabi on Saturday as well as Al-Dhafra airbase near the Emirati capital from which French warplanes have been flying missions targeting militants in Iraq and Syria.
This article was first published in the Saudi Gazette.