Sanaa University faculty go on strike over unpaid salaries
The staff and faculty are also striking against what they say are corrupt practices by Houthi militias being enforced within the university
Staff and faculty at Sanaa University in Yemen have begun a general strike on Saturday after their salaries have been held by Houthi militias for several months now.
They said they would enter a full general strike until all their demands have been met, a statement released by the union supporting the staff and faculty confirmed.
The staff and faculty are also striking against what they say are corrupt practices by Houthi militias being enforced within the university.
In November last year, Houthi militias attacked Sanaa University professors for protesting against the unpaid salaries.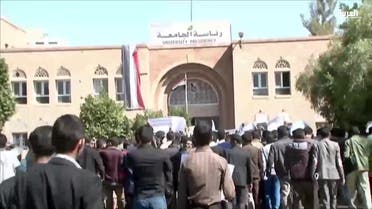 Sanaa University's Vice President Dr. Mohammed Shoukri resigned as a result of the attack and accused the university's President Fawzi al-Sughair, who was appointed to his position by Houthi militias, for also taking part in the clashes on campus.
Houthi militias are facing a cash crisis since September when the internationally-recognized government relocated its central bank headquarters to Aden, depriving them from a vital source of finance.