Lebanon's Aoun meets with Saudi King Salman
Among the topics sources say we will be discussed is the normalization of political and economic relations between the two countries
King Salman bin Abdulaziz Al Saud held at Al-Yamamah palace in Riyadh official talks with General Michel Aoun, President of the Republic of Lebanon.
During the talks, they reviewed bilateral relations between the two countries and ways of enhancing them in various fields, and the latest developments in the Arab and international levels. Previously King Salman has received President Michel Aoun of the Republic of Upon arrival at the venue, he was also received by Prince Faisal bin Bandar bin Abdulaziz, Governor of Riyadh region.
The Custodian of the Two Holy Mosques held a luncheon in honor of the President of the Republic of Lebanon and his accompanying delegation.
Lebanese President Michel Aoun said on Monday that his visit to Saudi Arabia aims to dispel ambiguities. "I came to the kingdom to dispel ambiguities. I carry (nothing but) friendliness and honesty towards the Saudi people," Aoun told Al-Ekhbariya television channel on Monday evening.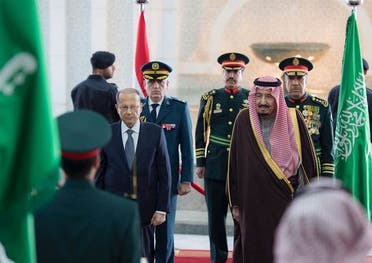 The Lebanese president arrived in Saudi Arabia on Monday for a two-day official visit. Aoun also said that internal wars only end through political solutions and voiced the importance of cooperation to combat terrorism.

"We all need to cooperate to fight terrorism. We need to cooperate with Saudi Arabia and with all countries because terrorism is no longer limited to Middle Eastern countries but it's now across the entire world," he told Al-Ekhbariya.
Addressing the Lebanese situation, Aoun said balances in Lebanon will strengthen each day, noting however that Lebanon bears the burden of the influx of Syrian refugees led to increasing the population during a short period of time thus resulting in huge financial burdens.
Aoun voiced hope that the crisis in Syria will be resolved peacefully and politically because refugees will thus be allowed to return to Syria and rebuild it. A statement issued by Aoun's press office Monday said that his Riyadh trip was at the invitation of Saudi Arabia's King Salman.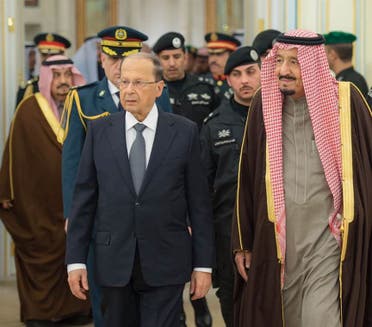 Among the topics sources say we will be discussed is the normalization of political and economic relations between the two countries, including the lifting of a travel ban on Saudi citizens visiting the country.
Another issue to be discussed will be the restoration of Saudi assistance to Lebanese military, which was halted in February last year. Aoun's tour will then continue on his Gulf tour when he is scheduled to visit Qatar on Wednesday.
Ministerial meetings
Aoun also met with Saudi Arabia's Foreign Minister Adel Al-Jubeir at a reception attended by Saudi Minister of State Dr. Ibrahim bin Abdulaziz Al-Assaf.
Jubeir also held a separate bilateral meeting with Lebanese minister of expatriates and foreign affairs Jobran Basil.
"My meeting with the Lebanese minister of expatriates and foreign affairs is come the following fruitful meeting between the Custodian of the Two Holy Mosques King Salman bin Abdulaziz Al Saud and the Lebanese President Michel Aoun. We will seek to enhance bilateral relations," Jubeir said.
Minister of Culture and Information Adel Altoraifi met Lebanese Minister of Information Melhem Riashy. During the meeting, they discussed bilateral relations between the two countries and topics of common interest.
Also, Minister of Commerce and Investment Dr. Majed bin Abdullah Al-Qasabi received at King Saud palace the visiting Lebanese Minister of Economy and Trade Raed Khoury where they discussed investment opportunities between the two countries, especially in the field of agriculture and the development of food industry.