Turkish President Recep Tayyip Erdogan believes that ISIS is living its final days and the decisive victory in fighting the terrorist organization would happen with the support of GCC countries led by the Kingdom of Saudi Arabia.
Erdogan is convinced that ISIS and other international terrorist groups like Boko Haram and Al Qaeda are being aided by some members of the international community.
In an interview with Turki AlDakhil that was aired on Al Arabiya on Friday, Erdogan tackled a number of regional and international issues including the Syrian crisis, the war on terror, as well as Turkey's stance towards the Muslim Brotherhood group.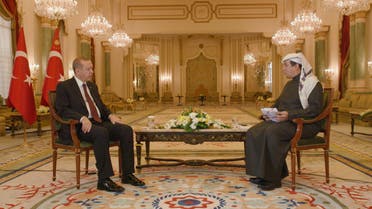 Syria
When asked about the Syrian conflict, Erdogan said that Assad's regime in Syria has killed nearly one million "innocent people", as he added that the fight against terror in the region is a continuous process.
Erdogan said that Turkey – as discussed with Saudi and European officials - will continue aiding the anti-Assad local forces with the needed training.
He added that his country currently hosts 2.8 million Syrian refugees, adding that a safe and no-fly zone should be established between Jarabulus and Al-Rai to provide a safe haven for more refugees.
He added "the Relationship between Russia and Turkey may worry some, maintaining friendly relationship between the two countries is very important for the future of the region and its stability."
Muslim Brotherhood
According to Erdogan, the Brotherhood is an ideological group rather than a militant one, adding that he will not blacklist the group's member unless they have resorted to armed and violent activities.
"I have not seen any armed acts [by the Muslim Brotherhood], and if I do see any militant activities by the group, my stance towards it will be the same as that against terrorist organizations," Erdogan said.
"We have many ideological groups and organizations of thought that function freely," he added.
Failed coup
Erdogan said that the failed coup attempt Turkey faced was plotted by a terrorist organization that is headed by Turkish dissident Abdullah Gulen, who may have played a part in downing a Russian fighter jet in order to harm Turkey's solid ties with the Russian Federation.
"We faced a terrorist group of the highest level. But thank God we managed to beat this failed coup attempt. We lost 248 martyrs in the process," he said.
"We were able, by the good grace of God, and the sincere support of the people, to foil the coup attempt, many martyrs sacrificed their souls for the good of the homeland. We were facing a new virtual terrorist organization with unusual and different technics; this terrorist organization has been premeditating for 40 years and then suddenly emerged. The leader of this organization went to the United States where he ran the activities of his cell. The organization is active in 170 countries in the world via endowments, education, trade and others." he added.
Erdogan said that he does not consider secularism to be against religion, but it is rather a system that maintains the freedom of practice for all religions and beliefs.
"It is not right to consider secularism as a form of imposing [certain] opinion on religious people," he said.
"Individuals cannot be secular; having a secular state is an important step. #secularism means being tolerant to all faiths, the state is neutral in matters of religions and stands from the same distance towards all religions and beliefs. Is this un-Islamic? Or does it not contradict with Islam? There are those who try to reinterpret this by introducing new concepts. In the past years, we always regarded secularism as anti-religion; secularism became an equivalent to atheism. We said no. Secularism means that the state guarantees freedoms to all groups, without privileging one over the other. That is our understanding of secularism." he said.

Erdogan was interviewed during his GCC visit, which included Bahrain, Qatar and Saudi Arabia, and aims at "uplifting mutual ties with the brotherly countries on the highest levels" as described by the Turkish President.