The Arab Coalition on Sunday asked to put the port of Hudaydah under the supervision of the United Nations, after dozens of Somali refugees were killed near the Yemeni coast.
In a statement, the coalition reiterated it is not responsible for the attack, and that "the coalition did not open fire on Friday in the region" that witnessed the attack in western Yemen, adding that no airstrikes hit the port of Hudaydah.
The Associated Press quoted French medical sources saying, "Signs on the bodies of the victims indicate that the attack was carried with light weapons."
The coalition called for Hudaydah port to under the supervision of the United Nations immediately.
"This would facilitate the flow of humanitarian supplies to the Yemeni people, while at the same time ending the use of the port for weapons smuggling and people trafficking," it said in a statement.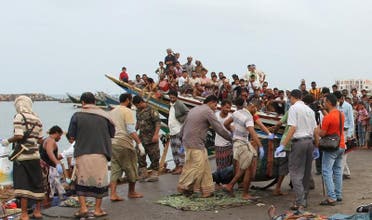 It is still unclear who was behind the assault.
"We do not know who carried it out, but survivors said they came under attack from another boat at 9 pm, the crew used lights and shouted to signal this is a civilian boat," Iolanda Jaquemet, a spokeswoman for the International Committee of the Red Cross, has said.
"Nevertheless, it did not have any effect and a helicopter joined in the attack," she said.
The attack killed 42 Somalis who were on their refugee boat. The refugees had departed from the western port city of Hudaydah en route to Sudan when it came under fire.
Humanitarian and security crisis
Yemen has been living a difficult humanitarian and security crisis after the Houthi coup and the control of Houthi militias of the capital Sanaa in September 2014.
According to the United Nations, Yemen is currently witnessing "the worst humanitarian crisis in the world" and is "threatened by famine" due to the blockade imposed by the militias.
On the other hand, Saudi security forces at the southern borders have thwarted attempts to plant landmines and smuggle weapons, ammunition and over half a ton of hashish. The Ministry of Interior said on Sunday that 3 smugglers were killed, 2 others were wounded and 30 were arrested between March 10 and 18.
The security spokesman for the Saudi Interior Ministry, Major General Mansour al-Turki said in a statement that the Saudi border guards have arrested 1265 smugglers, including 847 Yemenis, 309 Ethiopians and 16 Somalis.