Saudi Arabia's King Salman bin Abdulaziz Al Saud received the United States Secretary of Defense James Mattis at Al-Yamamah Palace in Riyadh today, the Saudi Press Agency (SPA) has announced.
During the meeting, they discussed ways of enhancing strategic friendship relations between the Kingdom of Saudi Arabia and the United States of America, especially in the field of defense, and the latest developments of regional and international events.
At the end of his talks today in Riyadh, the US defense secretary said that Saudi Arabia is taking a leading role in the region by helping Jordan to Egypt with the Syrian refugees.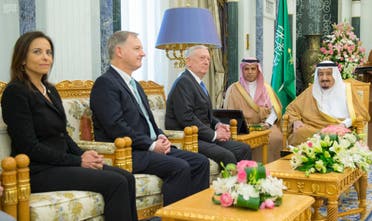 He also said he discussed Iran's activities in the region and aims to prevent them from establishing a 'Hezbollah-like' militia in Yemen.
Also read: More than 60,000 Saudis studying in the US
Minister of State and Cabinet Member Dr. Musaed bin Mohammed Al-Aiban, Minister of Culture and Information Dr. Adel bin Zaid Altoraifi, and Minister of Foreign Affairs Adel bin Ahmed Al-Jubeir, were present on the occasion.
From the American side, the meeting was attended by the Charge D'Affaires of the Embassy of the United States of America to the Kingdom Christopher Henzel, Deputy National Security Advisor for Strategy Dina Powell, Senior Advisor Sally Donnelly, and Senior Military Assistant Rear Admiral Craig S. Faller.