Houthi militias in the Yemeni capital of Sanaa declared a state of emergency on Sunday after an outbreak of cholera, which has killed dozens of people.
Yemen's health ministry called on humanitarian organizations and other aid donors to help it deal with the epidemic and avert an "unprecedented disaster".
The announcement comes just hours after earlier reports suggested Houthi militias were preventing cholera patients from receiving medical treatments at the Republican Hospital in Sanaa.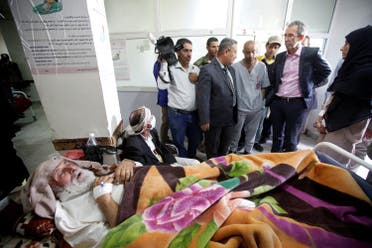 The Ministry of Health speaking on behalf of the illegitimate government run by Houthis and Saleh forces said on Sunday that the hospital would stop receiving any cases of cholera in order to treat militants on the front lines first, sources confirmed.
A cholera outbreak in war-torn Yemen has killed 115 people and left 8,500 ill as hospitals struggle to cope with an influx of patients, the International Committee of the Red Cross said Sunday.
"We now are facing a serious outbreak of cholera," said ICRC director of operations Dominik Stillhart at a news conference in the capital Sanaa.
Citing figures compiled by the Yemeni health ministry, Stillhart said 115 people had died of cholera between April 27 and Saturday.
More than 8,500 suspected cases of the waterborne disease were reported in the same period in 14 governorates across Yemen, Stillhart said, up from 2,300 cases in 10 governorates last week.
(With AFP)