US President Donald Trump said on Friday that there was "no choice" but to call out Qatar for its support to terrorism during a press conference in Romania, further urging the Gulf state to "immediately" stop funding terrorist groups.
He urged Qatar and its neighbors to "do more" to fight terrorism.
"I want to thank Saudi Arabia and my friend king Salman and all countries in that very historic summit," he said.
Last month, Trump visited Saudi Arabia, his first foreign destination as US president. He chose Saudi Arabia where he met at least 50 leaders from the Muslim world in a "historic" summit to put an end to terrorism.
"There has never been anything like it before," he described the summit. "And perhaps never will be again."
He added: "Hopefully it will be the beginning of the end of funding terrorism. It will be therefore be the beginning end of terrorism."
Trump said Qatar has a long history in supporting terrorism at a high level.
Before Trump's statement on Qatar, US Secretary of State Tillerson said during a press conference that Washington will back Kuwait's mediation efforts between Qatar and Gulf states but said the former must stop backing extremist groups in the region, Al Arabiya News Channel reported.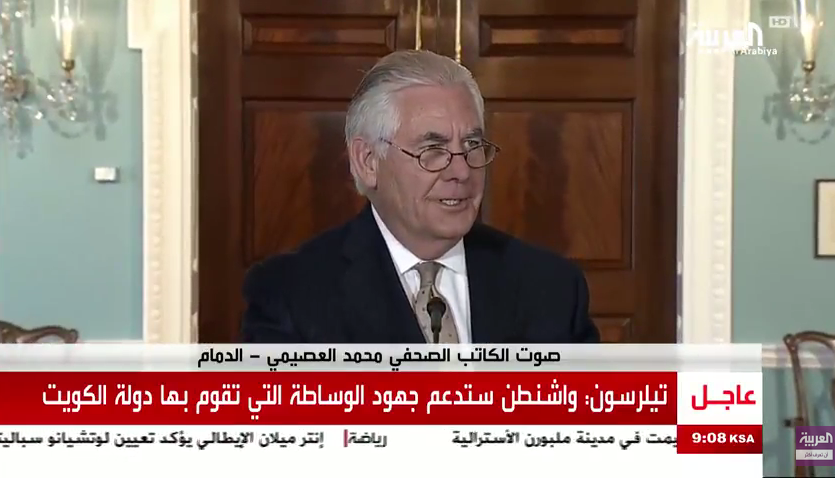 Tillerson described Qatar as having a "history" in backing to terrorist groups, urging Doha to change its course.
He also said that Qatar has achieved some progress in curbing support to terrorists, but it needs to do more.
The US official lent his weight to Kuwaiti mediation efforts, and said Washington will back these diplomatic efforts.
Saudi Arabia gave Qatar a list of 10 demands it must meet, after Riyadh and other Arab powers severed ties with Doha, accusing it of supporting terrorism.
Kuwaiti mediators, who were in Riyadh on Tuesday, were informed of Saudi demands, which included cutting off all links with Iran and expelling resident members of Palestinian militant group Hamas and the pan-Arab Muslim Brotherhood.
Tillerson also urged for calm and dialogue to solve the tensions with Qatar.
He called on Saudi Arabia and its regional allies to ease their blockade imposed on Qatar, saying it was harming the regional struggle against extremism.
Tillerson added that Qatar must do more to crack down on support for terrorism but that the crisis must not disrupt action against ISIS.
(With AFP)