The UAE Minister of State, Sultan bin Ahmad al-Jaber, said during his meeting with Russian Foreign Minister, Sergei Lavrov, on Friday that the decision to boycott Qatar is aimed at stopping its funding of terrorism that has been ongoing for several years.
According to UAE news agency WAM, Jaber pointed out that Qatar has adopted policies that jeopardized regional and global security for 22 years, through direct or indirect financing of terrorism or by supporting media outlets that enabled terrorist groups to promote their twisted ideologies that embrace violence and extremism.
Jaber noted that the measures taken by the UAE, Saudi Arabia, Bahrain and Egypt came after several attempts to change the course of Qatar's double standard policy based on simultaneously combatting and supporting terrorist organizations.
He confirmed that the decision to cut ties with Qatar is a clear message to the Qatari regime that it is time to correct the course and change the approach Doha has followed for many years to undermine regional security and stability in the region, by supporting extremism and terrorism.
He pointed out that Qatar has failed to keep the promise it made in 2013, which is to refrain from funding terrorism, interfering in the internal affairs of other countries in the region and destabilizing countries. This is what led to take such decision in order to urge Doha to back down from such practices that are negatively affecting the Qataris before other people in the region.
Boycott not siege
He also pointed out that Qatar is attempting to distort the facts by trying to label these measures as a siege targeting the Qatari people, and this is not true, given that Qatar can still use several air and sea routes.
In fact, Qatar thus confirms that it is still engaged in double standards policies; it is misleading the media.
Dr. Sultan al-Jaber reviewed with Lavrov, the list of terrorist organizations and individuals supported and backed by Qatar for many years now.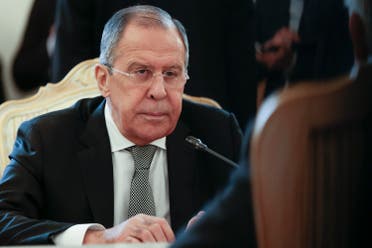 Lavrov assured the UAE minister that Russia has always been calling to overcome existing conflicts through dialogue, "taking into consideration the legitimate national concerns," including those related to rigorous efforts to combat terrorism.
The meeting also tackled ways of developing Russian-Emirati co-operation on several levels; the two countries expressed their interest in enhancing bilateral relations, including the co-operation in commercial, economic, investment and energy fields.
On the other hand, Jaber also met during his visit to Moscow with Mikhail Bogdanov, Russian Deputy Minister of Foreign Affairs and Russian envoy to the Middle East.