US: Iran provides cruise missiles to Yemen's Houthis, in threat to Bab el-Mandeb
US General Joe Dunford, chairman of the Joint Chiefs of Staff, said in an interview this week that Iran is "harassing US and international maritime activities" in the Arabian Gulf.
Speaking to Breaking Defense, Dunford said it was important to "zero in" on one of the most important issues for the United States, "and that's freedom of navigation in the Straits of Hormuz and the Bab el-Mandeb."
"By harassing U.S. and international maritime activities … and supplying advanced anti-ship cruise missiles to Houthi rebels in Yemen on the Red Sea coast, Iran is posing a threat to two waterways that are absolutely crucial to global commerce."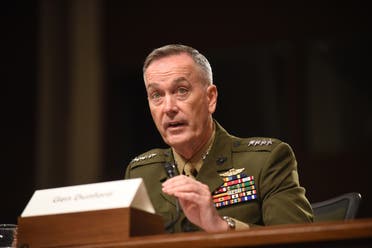 He added: "Since the 1970s and [President Jimmy Carter's 'Carter Doctrine'], the United States has been committed to keeping those vital waterways open."
In January, a US Navy destroyer fired three warning shots at four Iranian fast-attack vessels near the Strait of Hormuz after they closed in at high speed and disregarded repeated requests to slow down.
Years of mutual animosity eased when Washington lifted sanctions on Tehran last year after a deal to curb Iran's nuclear ambitions. But serious differences remain over Iran's ballistic missile program and conflicts in Syria and Iraq.
(With Reuters)