Saudis on Wednesday evening have pledged allegiance to their new Saudi Crown Prince Mohammed bin Salman, 31, at the Safa Palace in Makkah.
After his arrival to the palace, the Crown Prince was seen kissing the forehead of the Saudi Grand Mufti Sheikh Abdul Aziz bin Abdullah Al-Sheikh to show respect. The Grand Mufti started the ceremony by giving a short speech to pledge his allegiance.
Tribal officials and princes were also present at the ceremony.
Saudi Arabia declared Prince Mohammed bin Salman as the kingdom's crown prince while Prince Mohammed bin Nayef has been relieved from his position after a royal decree was issued by King Salman bin Abdulaziz early on Wednesday morning.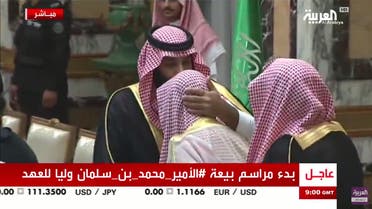 The Saudi Press Agency confirmed that 31 out of 34 members of Saudi Arabia's Allegiance Council chose Mohammed bin Salman as the kingdom's crown prince.
Salman Al-Dosari, a Saudi commentator, said "in one night" a new crown prince has been appointed peacefully, showing smooth transition and stability in the kingdom.
"Saudi Arabia has offered a new model of how to organize its internal affairs in a message for those inside the kingdom and abroad," Dosari told Al Arabiya News Channel.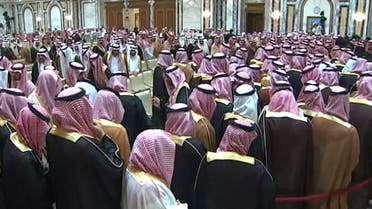 Prior to his appointment as crown prince, Mohammed bin Salman, who was the deputy crown prince, unleashed his economic Vision 2030 last year in a bid to wean Saudi Arabia from its oil dependency.
"For the first time in Saudi Arabia, we have a transparent economic vision," Dosrai said. "Now, we have the right opportunity to promote this vision."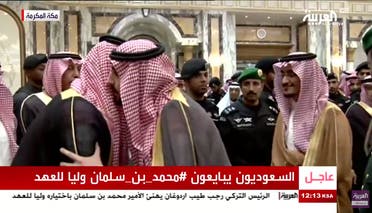 US President Donald Trump called the newly appointed Saudi Crown Prince Mohammed bin Salman to congratulate him, Al Arabiya News Channel reported Wednesday.
The UK, Turkey and Arab rulers have also congratulated the new crown prince.
Also read: All you need to know about the pledge of allegiance and the allegiance council