Saudi FM: We will consider Qatar's response carefully before taking stances
Saudi Arabia's Foreign Minister Adel al-Jubeir has said that boycotting Gulf and Arab countries hope that Qatar's response to the demands "will be positive".
"The aim of the measures taken against Qatar is to change its policies that harm it, the countries of the region and other nations of the world," Jubeir told a press conference alongside his German counterpart Sigmar Gabriel in Jeddah.
"We look forward to receiving this response and studying it carefully, and then taking the appropriate steps towards it," Jubeir added.
The Saudi foreign minister said that he agreed with his German counterpart on the importance of stopping the support and financing of terrorist groups across the world, as well as stopping Qatar's incitement of extremism through its media channels and Doha's interference in the internal affairs of neighboring countries.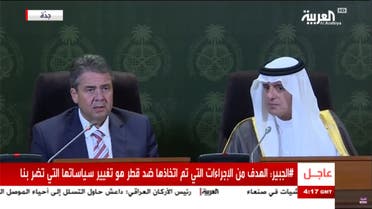 Asked by a reporter whether Jubeir found a difference in Germany's stance since the beginning of the crisis with Qatar, the foreign minister said: "Actually from the beginning of the crisis we found no change in Germany's stance. They stand with us on the same principles the supporting terrorism must stop."
Jubeir confirmed that most of what was demanded from Qatar was already included in the list of requests agreed in the 2013 and 2014 Riyadh agreements signed by Qatari Emir Sheikh Tamim Al-Thani, adding that it was agreed to extend the deadline granted to Qatar at the request of the Kuwaiti mediators.