Al Arabiya News Channel has obtained and published the Riyadh Agreements of 2013 and 2014 signed by Qatari Emir Sheikh Tamim bin Hamad al-Thani promising to abide by several demands made back then.
The first agreement with Saudi Arabia, signed in 2013, was mediated by Kuwait and signed by Qatar's Emir in which he promised to implement the terms of the agreement before the leaders of the Gulf Cooperation Council. The documents of the first agreement showed that Sheikh Tamim signed all the items demanded by the countries of the Gulf and the importance of establishing a new phase of fraternal relations.
A second agreement headlined and dated November 16, 2014, adds the King of Bahrain, the Crown Prince of Abu Dhabi and the Prime Minister of the UAE. The most prominent demand agreed by Sheikh Tamim on the 2014 agreement was to halting of Qatar's support for the Muslim Brother and the expulsion of all its affiliates of non-citizens from Qatar.
Qatar also promised not to harbor persons with harmful agendas toward the GCC and not support any organization fighting against the legitimate government in Yemen and Egypt.
While the existence of the agreements has always been known, specific details were kept secret because of the sensitivity and as per GCC meetings protocols.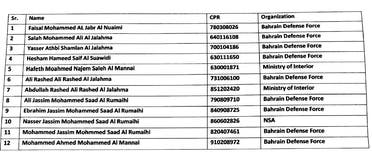 Another document obtained and released by Al Arabiya also revealed the names of 12 Bahraini military officers who were naturalized by Qatar.
One of the clauses signed by Qatar on the the Supplementary Riyadh Agreement 2014 was Doha's halting all employment and support – either directly or indirectly – of media professionals and outlets that have an anti-GCC agenda.
Qatar also agreed to work with the GCC states in supporting Egypt and maintaining its security and stability and specifically, stopping "insults directed from Al Jazeera Media Channel and Al Jazeera's Egypt Live (Mubasher Misr) channel". It is worth noting that Qatar decided to disband and close down Mubasher Misr after the agreement was signed back then.
Page 1 of the Supplementary Riyadh Agreement 2014: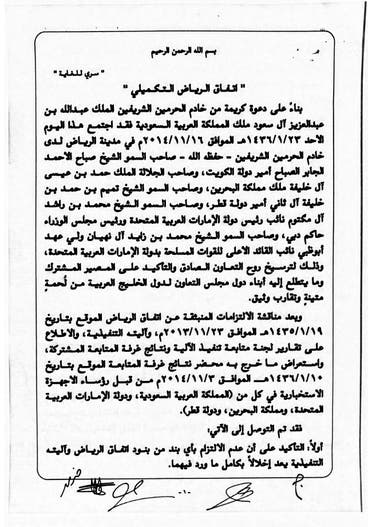 The documents reveal the demands requested from Qatar, which signed them and did not consider them a "violation of sovereignty." Qatari Emir, Tamim bin Hamad, himself signed all the clauses that allow for action in case of non-compliance.
The agreement stipulates that "in the event of non-compliance by any state, it is the right of other States to take what it deems appropriate to protect its security and stability."
Page 2 of the Supplementary Riyadh Agreement 2014: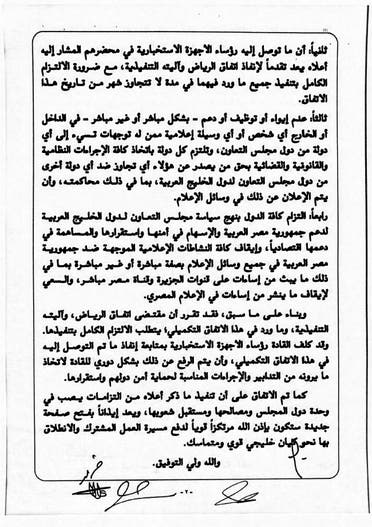 Page 3 of the Supplementary Riyadh Agreement 2014: