The signature of the Emir of Qatar, Sheikh Tamim bin Hamad Al Thani, appeared on the documents of a secret agreement with the GCC held between 2013 and 2014.
The Qatari Emir's signature on the documents sparked outrage at his country's failure to comply with the 2013 and 2014 agreements. The agreement was signed with Saudi Arabia in 2013 under the mediation of Kuwait and the signature of the Emir of Qatar.
The Emir of Qatar's signature appeared on all the items demanded by the Gulf States, under the aim of establishing a new phase of relations.
Sheikh Tamim also signed an article granting the Gulf States freedom to take action against Qatar in case of non-compliance.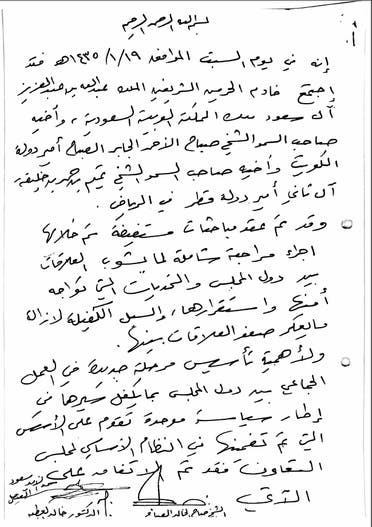 He also also signed an agreement to stop support to the Muslim Brotherhood and expel all non-citizen elements from Qatar, as well as not take in any members who are also citizens of the GCC. The agreement also stated that Qatar could not support any organization or group in Yemen that undermines internal relations or relations with surrounding countries.
Among the items signed by the Emir of Qatar is adherence to the general foreign policy approach agreed upon by the Gulf States and the closure of institutions that train Gulf citizens in sabotaging their countries.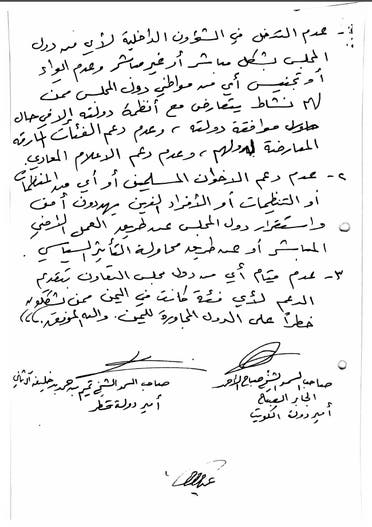 He also signed on the non-interference in the internal affairs of any of the GCC States directly or indirectly, as well as not to harbor or naturalize any GCC citizen who has activity contrary to the regulations of his country - only in the case of consent of his state.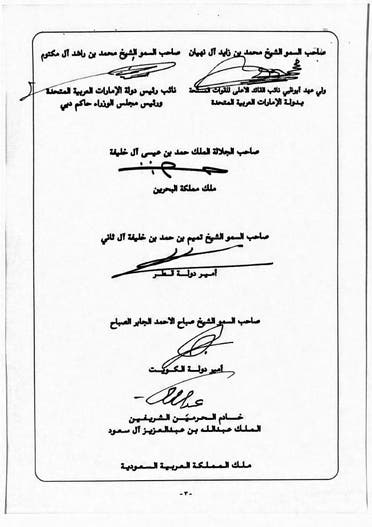 The documents reveal the demands requested from Qatar, which signed them and did not consider them a "violation of sovereignty." Qatari Emir, Tamim bin Hamad, himself signed all the clauses that allow for action in case of non-compliance.
The agreement stipulates that "in the event of non-compliance by any state, it is the right of other States to take what it deems appropriate to protect its security and stability."