UAE Minister of State for Foreign Affairs Anwar al-Gargash said in a tweet on Wednesday that the Qatari crisis is "within a region of its own."
He said Qatar should deal with the Arab quartet's concerns, not only be acknowledging concerns from Washington and other western capitals.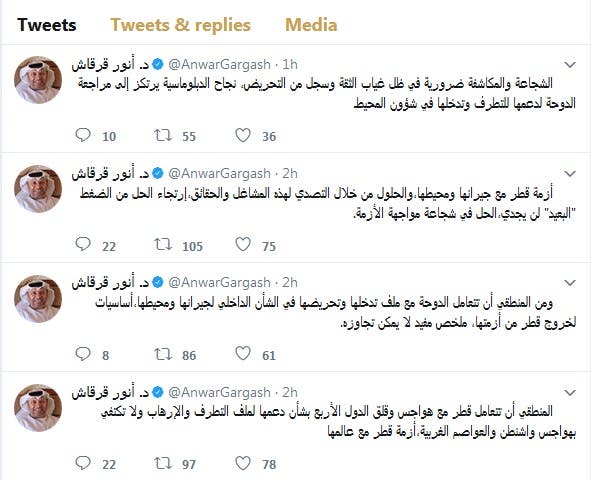 Gargash said that Qatar would begin to exit the crisis once it acknowledges the consequences of meddling in the internal affairs of neighboring countries.
He stressed again in a following tweet that the conflict should remain only within this region and the solution lies in addressing the facts. "Avoiding them due to 'foreign pressures' will not work, the solution lies in the courage to face the crisis."
He concluded saying: "Courage and transparency are necessary in light of the lack of trust and a record of incitement."
The United States have expressed concern early last month that the rift may affect its military and counter-terrorism operations and increase the regional influence of Tehran.
During a visit by US Secretary of State Rex Tillerson and British National Security Advisor Mark Sedwill to Kuwait, it was urged that the dispute be resolved quickly via dialogue among the Western-allied countries.
Qatar is also home to the American base in Al Udeid area, which US experts are urging to close down.
Former American diplomat Dennis Ross has previously said: "the reason Doha hosts the US military is to use our men and women in uniform as a security guarantee to do whatever they like—not, as the Qataris claim, to support a key counterterrorism installation."