Abu Dhabi Crown Prince and Deputy Supreme Commander of the UAE Armed Forces, Sheikh Mohammed bin Zayed Al Nahyan, received two senior envoys assigned by US Secretary of State Rex Tillerson to handle issues relating to Qatar crisis in the region.
The visit of the envoys, retired General Anthony Zinni and Tim Lenderking, deputy assistant secretary for Arabian Gulf Affairs in the Near East Bureau, comes as part of their tour of the region to mediate a resolution for Qatar crisis after a visit to Kuwait and Qatar.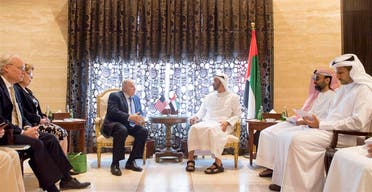 Reports indicate that they are due to travel to Saudi Arabia, Bahrain and Egypt later.
ALSO READ: Tillerson sends senior envoys to handle Qatar crisis
Tillerson decided to appoint envoys in alliance with the US administration's efforts to resolve the Qatari crisis with the Gulf States and Egypt.