Muqtada al-Sadr, the leader of The Sadrist Movement in Iraq, stated that visions were aligned during his meeting with Saudi Crown Prince Mohammed bin Salman in Jeddah last month.
Al-Sadr said that Riyadh serves as a "father figure" in its efforts to bring peace to the region.
In an interview with the London-based Asharq Al-Awsat newspaper on August 11, 2017, al-Sadr said that the two parties discussed several files of concern to the region, including Yemen, Bahrain, Syria, Jerusalem, Iran-Saudi relations, as well as Baghdad's ties to Riyadh.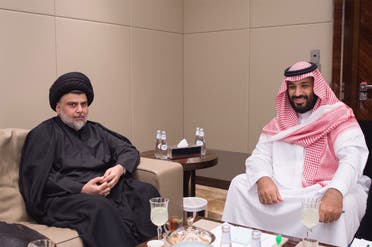 He characterized the meeting as being transparent and honest. Al-Sadr pointed out that all the conflicts in the region can be solved gradually even if it took time, noting that this includes the status quo between the four countries Saudi Arabia, Egypt, Bahrain and the UAE, on the one hand, and Qatar, on the other.
He believes that Qatar showed reluctance to compromise, but will eventually come to its senses.
He also called for the stepping down of Assad, as the head of the regime in Syria, pointing out that when he is out of the picture, it would contribute to peace.