Muslims around the world celebrated the Eid al-Adha holiday on Friday, one of the two most important festivals of the Islamic calendar.
Marking the willingness of Ibrahim, or Abraham, to sacrifice his son on God's command, Muslims mark the holiday by slaughtering animals such as sheep and goats. The meat is shared among family and friends and also donated to the poor.
PHOTO GALLERY: Eid al-Adha around the world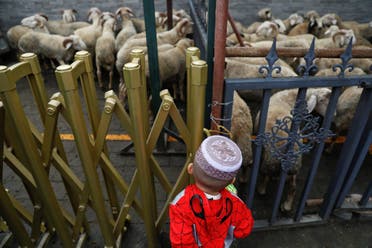 Faithful across continents marked the festival, which comes as the annual Hajj pilgrimage to Makkah in Saudi Arabia draws to a close.
Palestinians flocked to Jerusalem's al-Aqsa mosque for prayers.
The festival was also celebrated across Africa, with the faithful in countries such as Somalia and Kenya attending mass prayers.
In Russia, thousands of Muslims gathered for prayers in Moscow.
Hajj draws to a close
Saudi Arabia said more than 2.3 million pilgrims, most of them from outside Saudi Arabia, had arrived for the five-day pilgrimage, a religious duty once in a lifetime for every able-bodied Muslim who can afford the journey.
The pilgrims gathered at Mount Arafat on Thursday for a vigil to atone for their sins, then descended to Muzdalifa to prepare for the final stages of the annual hajj pilgrimage.
Pilgrims clad in white robes spent the previous night in an encampment at the hill where Islam holds that God tested Abraham's faith by commanding him to sacrifice his son Ismail and where the Prophet Mohammad gave his last sermon.
Other worshippers who had been praying in the nearby Mina area ascended in buses or on foot from before dawn as security forces directed traffic and helicopters hovered overhead.
Some of the faithful carved out seats on the craggy hillside, carrying umbrellas to protect themselves from the sun.
Sheikh Saad al-Shathri, a senior Saudi cleric, delivered a midday sermon denouncing terrorism and violence against civilians.
"Sharia came to preserve the security of nations and cultivate kindness in (people's) hearts," he said, referring to the Islamic legal and moral code derived from the teachings of the Quran and the traditions of the Prophet.
He urged pilgrims to set aside politics during the Hajj and come together with fellow Muslims.
"This is no place for partisan slogans or sectarian movements which have resulted in great massacres and the displacement of millions," he said.
Saudi state television on Thursday morning showed a new kiswa, the cloth embroidered with verses from the Quran, being placed over the Kaaba in Mecca's Grand Mosque. Pilgrims will return to pray there at the end of Hajj.
Pilgrims began moving to the rocky plain of Muzdalifa to gather pebbles to throw Jamarat at stone columns symbolizing the devil.