Although a road separates the buildings of Al Jazeera English from their organization's main Arabic network, the two channels could not have been further apart editorially.
This was ever more evident during both the channel's coverage of Saudi Arabia's National Day celebrations.
While Al Jazeera English (AJE) produced a video criticizing Saudi Arabia for "banning gender mixing at concerts and cinemas", Al Jazeera Arabic's coverage condemned women and men celebrating the National Day at mixed events.
Al Jazeera Arabic (AJA) went so far as to invite a political ethics and religious history professor, Mohammed al-Mokhtar al-Shinqiti, who labeled the gender mixing during Saudi national day by quoting critics describing the event as "akin to pornography".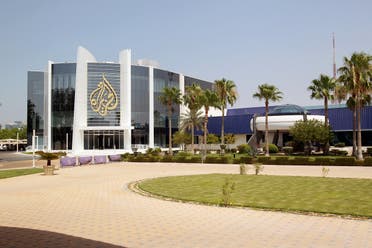 A completely different tone was struck across the street when Al Jazeera English produced a package and an in-depth magazine show advancing the point of view that not enough reforms were being undertaken in the Gulf kingdom - the opposite of AJE's sister channel messaging all day long.
"Another step that's been lauded by rights activists came over the weekend. For the first time, women were allowed to enter the King Fahad stadium to celebrate the 87th anniversary of the kingdom's foundation… The right for women to drive may be a welcomed step, but human rights organizations say the kingdom has a long way to go in guaranteeing equal rights," Al Jazeera's Paul Chaderjian reported.
Former AJE staff speak out against sister Arabic channel
Diverging editorial lines between AJA and AJE is nothing new. Former journalists who once worked on AJE have publicly spoken out on the unspoken rule among themselves and their efforts to distance themselves from their colleagues at AJA.
This especially came to head after Egypt arrested three AJE journalists and sentenced them in June 2014. At the time, Al Jazeera's Mubasher Misr (AJMM), or Egypt Live channel was formally banned by the state while Al Jazeera English continued reporting from Cairo while reapplying for their expired press credentials. Mohamed Fahmy, then AJE Cairo bureau chief, was led to believe that any packages produced from their team would not be broadcasted on AJMM. Al Jazeera continued to broadcast reports by AJE on the AJMM, despite repeated requests from Fahmy in Cairo not to do so.
RELATED: Al Jazeera anchor causes controversy with post on Hurricane Irma victims
"There's never been any acknowledgment from Al Jazeera management or editorial in public that Al Jazeera, as a television channel, got sucked into the Muslim Brotherhood game that was being played out in the Middle East. Everyone at Al Jazeera English came to recognize that Al Jazeera's pro-Muslim Brotherhood bias in some of its reporting, in some of the areas in which it worked, put its staff in greater and unnecessary danger," Senior Middle East Correspondent from 2007-2013 Anita McNaught told Channel 4 News, which investigated Al Jazeera's management about their handling of AJE staff in Egypt at the time.
McNaught, who did two stints in Cairo for AJE, was not alone in criticizing Al Jazeera's bias toward the Muslim Brotherhood. Greg Carlstrom, formerly an online producer at AJE, wrote a lengthy Foreign Policy piece titled "Why Egypt hates Al Jazeera English".
"Other Islamist leaders supportive of deposed President Mohammed Morsi, including Muslim Brotherhood leader Gamal Heshmat, have appeared in recent weeks on both the Arabic channel and its Egypt affiliate, Mubasher Misr. The channel routinely gives airtime to guests with sharply sectarian and reactionary views, which often go unchallenged. The Washington Post reported in November that the network has also paid to host several exiled Egyptian Islamist leaders in hotels in Doha," Carlstrom wrote.
"None of this makes it onto Al Jazeera English".
Ruben Banerjee, who is a former senior editor at AJE online and now national editor at the Hindustan Times, wrote that his former network walked a thin line between journalism and activism.
RELATED: Online users unearth footage of Al Jazeera anchor justifying 9/11 attacks
"Its English arm, started in 2006, is suave and sophisticated. The original Arabic channel that first courted international fame and notoriety at the same time with the Osama bin Laden tapes some couple of years after its launch in 1996 is a little more direct. Mubashr Misr, the local variant of the Arabic channel, was far more stormy and acerbic," Banerjee wrote.
"That the line between journalism and activism is often blurred is well to be expected given the backgrounds and personal preferences of senior staff," he added.
Further disparities
Editorial disparities came to head in 2014, when AJA's website published a report that ridiculed the execution of US journalists James Foley and Steven Sotloff as a "Hollywood" fabrication. Al Jazeera eventually removed the article following a report by Al Arabiya English which outlined the controversial claims made in the Al Jazeera story, deemed by many online commentators as offensive and insensitive.
A year later, internal fighting among AJE and AJA staffers made headlines after a series of leaked emails showed disagreements over the Charlie Hebdo shooting in Paris in 2015.
Several journalists and editorial staff branded the Charlie Hebdo magazine as "racist" and "extremist" while others defended the right to publish cartoons depicting Islam's Prophet Muhammad.
The chain of emails involving newsroom staff and foreign correspondents resulted in several back-and-forth before Mohamed Vall, a senior reporter based in Qatar and who reported for AJA before joining AJE, said supporting Charlie Hebdo risked encouraging more killings.
"And I guess if you encourage people to go on insulting 1.5 billion people about their most sacred icons then you just want more killings because as I said in 1.5 billion there will remain some fools who don't abide by the laws or know about free speech," Vall wrote.
Case of Jane Dutton
Senior anchors from both AJE and AJA recently participated in a video campaign demanding press freedom after the Anti-Terror Quartet countries issued a list of demands, including the shutting down of Al Jazeera Media Network for it being used as Qatar's foreign policy tool to meddle in other countries' internal affairs.
Senior AJE News Presenter Jane Dutton appeared in the same video saying: "We demand diversity of thought and opinion be cherished".
Dutton, however, was at the center of an internal dispute between AJE and AJA after she was taken off-air on Aug. 14, 2013, following an interview she had with a member of the Muslim Brotherhood.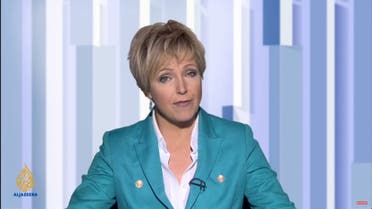 According to AJE staffers who spoke to independent news website Doha News, the channel's Executive Producer Hani El Konayyesi pulled Dutton off air after Al Jazeera management felt she had asked questions that cast the Muslim Brotherhood in a negative light. Dutton had asked whether the Muslim Brotherhood had been seen with weapons inside the Rabaa al-Adawiya Mosque at the height of protests that summer.
"She (Dutton) was given a dressing down, publicly, behind the glass walls of an office in the newsroom. They tried to make out that someone of Jane's experience had forgotten her journalistic integrity in the excitement of it all," one AJE staff told Doha News, which was banned from operating inside Qatar last year.
David Pollock, the Kaufman Fellow at The Washington Institute, analyzed the difference between AJE and AJA in Apr. 2011 in a piece titled "Al Jazeera: One Organization, Two Messages", just two months after the so-called Arab Spring uprising took place. In the piece, Pollock wrote that while the Arabic website reflects Qatar's regional interests, the English site has a greater internationalist bent to its reporting.
"Unfortunately, Aljazeera's English/Arabic bifurcation helps to ensure that these constituencies will never see eye to eye. As long as this practice continues, Aljazeera should not be touted as a true reformer or promoter of democracy," Pollock wrote.