Saudi King Salman arrived in Russia on Wednesday for a two-day official visit at the invitation of Russian President Vladimir Putin.
During the historic visit, he will discuss the issues of the region and bilateral cooperation and will witness the signing of a number of important economic agreements.
The Kremlin announced that military cooperation is on the agenda of the meeting between King Salman and President Vladimir Putin.
Russian Foreign Minister Sergei Lavrov said that the visit of King Salman to Moscow would contribute to stability in the Middle East.
Lavrov said in his remarks to Asharq Al-Awsat that the visit constitutes a real turning point in the relations between the two countries. He expected the cooperation between Riyadh and Moscow to move to a completely new level.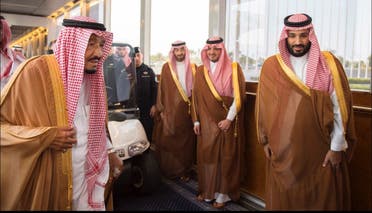 He also pointed out that the political dialogue at the highest levels between the Kingdom and Russia continues to be out of the limelight. The two sides are intensifying their efforts to strengthen trade ties and common humanitarian ties, he said.
For his part, the Saudi king expressed his hope that his visit to Russia and his talks with President Vladimir Putin and Moscow officials will help the two countries to promote and develop bilateral relations in all fields in a way that serves the common interests, and efforts to achieve international peace and security.