Saudi Arabia's King Salman was granted an honorary doctorate on Saturday by the Moscow State Institute of International Relations, operated by Russia's Foreign Ministry.
The institute's award acknowledges the king's role in strengthening relations between Saudi Arabia and Russia and his contribution to global stability.
The king is currently visiting Russia in a historical trip that has seen him hold talks with President Vladimir Putin and Prime Minister of the Russian Federation Dmitry Medvedev.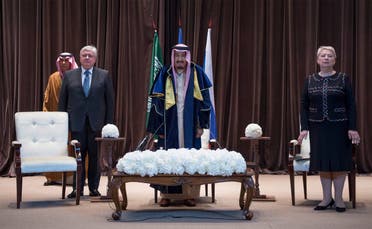 "We are determined to push these relations to greater heights, and in this context we would like to pay tribute to the fruitful discussions with President Vladimir Putin yesterday, in which it was agreed to strengthen cooperation between our two countries in various fields," King Salman said in a meeting with Medvedev on Friday.
The King stressed that the achievement of peace and stability in the Gulf and the Middle East and the resolution of the crises in Yemen, Syria and elsewhere requires Iran to stop its expansionist policies and abide by the principles of good neighborliness.