Yemen's Information Minister Muammar al-Iryani criticized the UN for providing Houthi militias and forces loyal to ousted president Ali Abdullah Saleh with $14 million to remove mines.

Iryani said in a statement published by the Yemeni news agency SABA that this aid is tantamount to a reward to their crimes and murder of civilians as it encourages them to plant more mines which killed and injured thousands of civilians, including women and children.

Yemeni news outlets reported that the UN provided $14 million to the Executive Mine Action Center in Sanaa which the militias control. The UN and its office in Sanaa have so far not responded to these reports.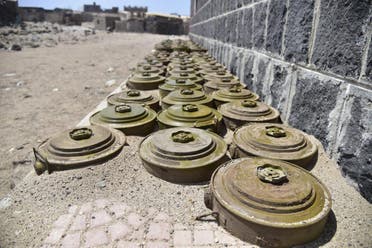 Iryani also warned that the militias will employ the UN support to develop mines and military operations that target civilians.

He added that this "clear contradiction in the UN's role towards the Yemeni crisis" is because the UN continues to gather information from militias' sources in Sanaa and refuses to transfer its office to the temporary capital of Aden.

"The UN has thus turned into a tool in the Houthi militias' hand," he added and held the UN and its Sanaa office responsible for problems that harmed their humanitarian efforts and prolonged the war.

Houthi militias have randomly planed mines as several local and international human rights' reports stated that they planted more than half a million mine in liberated Yemeni provinces, including internationally prohibited mines which killed hundreds of civilians and injured hundreds others. Houthis also planted naval mines on Yemen's coasts to target international navigation.