Saudi Arabia announces millions of dollars in bounty for 40 wanted in Yemen
The Saudi Ministry of Interior issued a statement on Monday with a list of 40 names of leaders and elements responsible for planning, executing and supporting various terrorist activities by the Houthi terrorist group, as well as financial rewards for information leading to their arrest or whereabouts.
The announcement came as part of Saudi Arabia's effort to stop terrorism and fight extremist ideology. Houthi militias have increasing terrorist activities and continue to harm the security of Saudi Arabia.
Houthi militias have also been known to have ties with Hezbollah in Lebanon.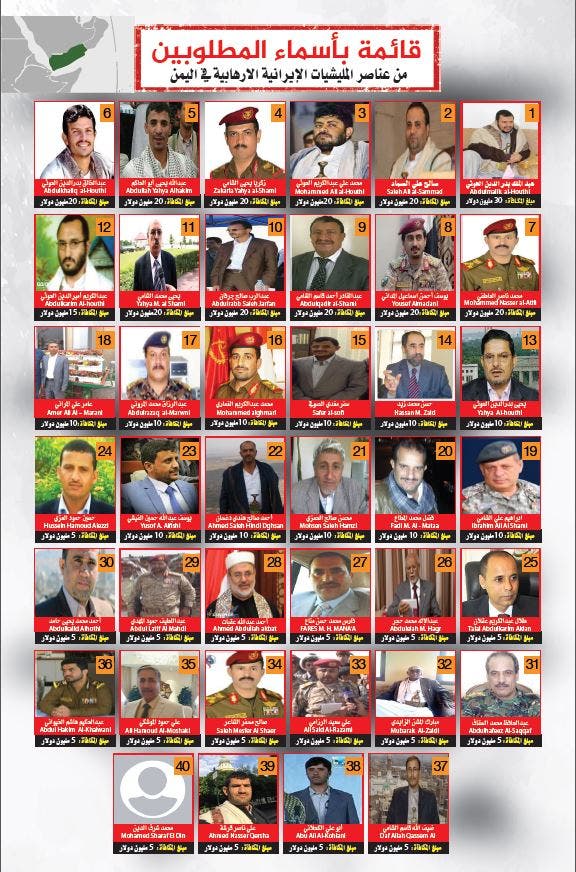 Ballistic missiles were used in a significant precedent where these dangerous missiles were available to the terrorist militias, who violated the legitimacy when directly threatened Saudi Arabia to intimidate the citizens and cause insecurity in Saudi Arabia and impact its stability.
Saudi Arabia announced the first list with 40 names of Houthi leaders and members responsible for planning, executing and supporting the different terrorist activities in the Houthi group.
It also announced financial rewards for whoever gives information that leads to arresting the wanted men or even locate them, calling for whoever has this information to contact Saudi authorities.
Those in the list include Houthi leader, Abdul Malik Badreddin al-Houthi, with a $30 million bounty placed on him.