Saudi king Salman bin Abdulaziz received Lebanese Maronite Patriarch Beshara Rai at Al-Yamamah Palace in Riyadh on Tuesday.
Saudi Crown Prince Mohammed bin Salman met the Lebanese Patriarch later on Tuesday afternoon, reported Saudi Press Agency.

The meeting tackled brotherly relations between the Saudi kingdom and Lebanon and confirmed the importance of different religions and cultures in strengthening tolerance, rejecting violence, extremism and terrorism and achieving peace and security for the region's people and the world.

A number of Saudi ministers including Foreign Minister Adel al-Jubeir and Gulf Affairs Minister Thamer al-Sabhan attended the reception.

The Lebanese patriarch's visit is historic as it's the first time a Maronite Patriarch visits the kingdom.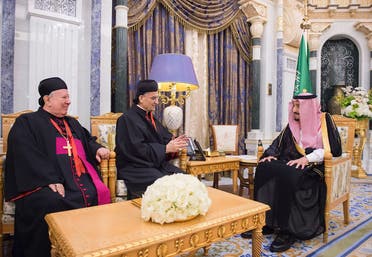 Lebanese Prime Minister Saad al-Hariri also welcomed Maronite Patriarch Bechara Boutros al-Rahi during this landmark visit to Riyadh.