Saudi Crown Prince Mohammed bin Salman opened the inaugural meeting of the Islamic Military Coalition's ministers of defense held in Riyadh on Sunday.
In his speech, Prince Mohammed reaffirmed the 41-country coalition's firm commitment to battle terrorism.
"We will not allow them [terrorists] to distort our peaceful religion.Today we are sending a strong message that we are working together to fight terrorism."

The meeting is held under the slogan "allied against terrorism." This is the first time the coalition meets in Riyadh which established the coalition around two years ago.
"Today we affirm that we will pursue terrorism until it is eradicated completely," Prince Mohammed added.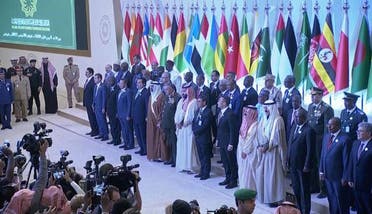 It will be attended by the coalition's ministers of defense, envoys and delegations from supporting countries and experts in the field of the coalition's work, and it will discuss means to combat the financing of terrorism and specify future frameworks to unify efforts to eliminate terrorism and maintain international peace and security.
Dr. Mohammad al-Issa, Secretary General of the Muslim World League, introduces the domain of Ideology, and the necessity of promoting a message that counters the narrative of violent extremist ideology and reaffirms the Islamic principles of tolerance and compassion, through presenting the true nature of Islam and supporting ideological, psychological, and social reforms.
"Terrorism is an ideological problem, not just a security issue," said Issa. "Contemporary extremism is becoming widespread because of the absence of informed confrontation."
He added that terrorists from more than 100 countries joined ISIS, explaining, "the Europeans in ISIS make up 50 percent of the elements of the organization."
An Al Arabiya correspondent reported that the coalition's military commander Raheel Sharif will discuss military-related affairs, such as securing resources, exchanging military information and encouraging member states to build strengthen military capabilities to combat terrorism and deter violence.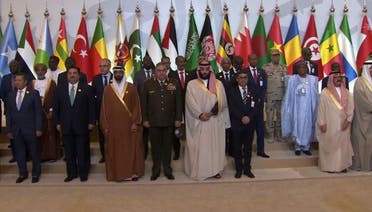 Doctor Mohammad Al-Momani, Minister of State for Media Affairs, will address the meeting on behalf of the Jordanian ministry.

Governor of the Saudi Arabian Monetary Authority Dr. Ahmed Bin Abdel-Karim Al-Kholaify will also deliver a speech during the meeting as the coalition aims to coordinate with relevant parties to combat funding terrorism in member states, promote better practices and develop legal and organizational frameworks.