Saudi ministers hope uprising in Sanaa will help rid Yemen of Houthi militias
Saudi Arabia's King Salman bin Abdulaziz chaired a meeting held by the kingdom's council of ministers on Tuesday where the monarch briefed them on the results of his talks with British Prime Minister Theresa May last week.
Saudi Minister of Culture and Information Dr. Awad bin Saleh Al-Awad said in a statement that the cabinet discussed a number of reports on developments in the region and the world.
The ministers welcomed a joint statement issued by the international meeting on the Yemeni crisis in London. The statement affirmed the full support of Saudi Arabia in its legitimate right to defend itself against threats to its security and stability. The statement also stressed that the firing of ballistic missiles by the Houthis toward the Kingdom constitutes a threat to regional security and prolongs the conflict.
The council pointed out the developments in the Yemeni capital Sanaa and noted the statement made by the leadership of the coalition supporting the legitimacy in Yemen in this regard.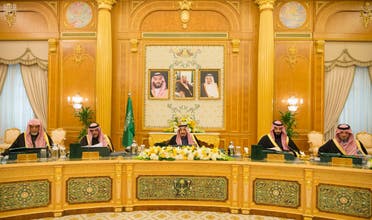 Awad expressed the hope that "the uprising of the Yemeni people against the Houthi-backed sectarian militias supported by Iran will rid Yemen of the abuse, death threats, and the appropriation of public and private properties".
"Saudi Arabia reiterates its constant concern for the stability of Yemen and its return to its Arab embrace and for all that is in the interest of its people and the preservation of its land, security, identity, unity and social fabric within the framework of Arab, regional and international security," he added.