Saudi-led Coalition in Yemen: 83 ballistic missiles fired into Saudi Arabia
The Saudi-led Arab Coalition in Yemen revealed that 83 ballistic missiles have been fired by Houthi militia forces towards the Kingdom of Saudi Arabia.
Spokesman for the coalition forces, on Wednesday, Colonel Turki bin Saleh al-Maliki, said that the coalition forces were able to destroy a large number of Houthi ballistic missile sites including the latest one which launched a missile towards Riyadh on Tuesday.
Col al-Maliki told reporters at the King Salman air base, that the Yemeni government currently controls 85 percent of country's territory.
He stated that the Behan Directorate has been completely liberated from Houthi control and that more than 11,000 militia members have been killed in operations and strikes recently.
Images of bombardments targeting missile production infrastructure and military headquarters in the city of Saada was shown at the press conference.
Sana'a liberation underway
Col al-Maliki revealed that the coalition has started implementing plans to liberate the capital Sana'a from the Houthi militias.
He called on the Yemeni people to complete the march against the Houthi militias which are implementing Iranian agendas.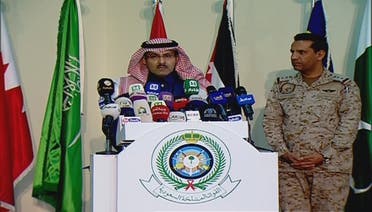 Humanitarian aid
In terms of humanitarian aid, Col al-Maliki said that the coalition is continuing in its efforts to deliver aid to the Yemeni people, despite the continued ballistic missile launches by the Iranian backed group.
The spokesman revealed that ships loaded with fuel will be allowed to enter Yemeni ports for 30 days.
Speaking in the press conference, Saudi Ambassador to Yemen, Mohamed al-Jaber, said work was under way to finalize the comprehensive humanitarian operations plan in Yemen.
He said that plans include raising the capacity of Yemen's ports and the use of border crossings with Saudi Arabia to ensure that humanitarian aid reaches its beneficiaries. He added that it was decided to provide safe corridors in coordination with the coalition leadership to deliver aid.
In the coming days, also, coordination with the United Nations and regional humanitarian organizations will be set to develop the final details of the plan.