Houthis seize and detain bank accounts of 1,223 Yemeni officials and citizens
Houthis have sent an order to seize and detain the banks accounts and properties of more than 1,000 Yemeni officials including ministers in the legitimate government, political activists, those against the coup, and upper and middle party leaders.
Based on these directives, the Central Bank of Yemen in Sanaa ordered banks in the private and mixed sectors to detain a number of bank accounts – as seen in the attached statements below.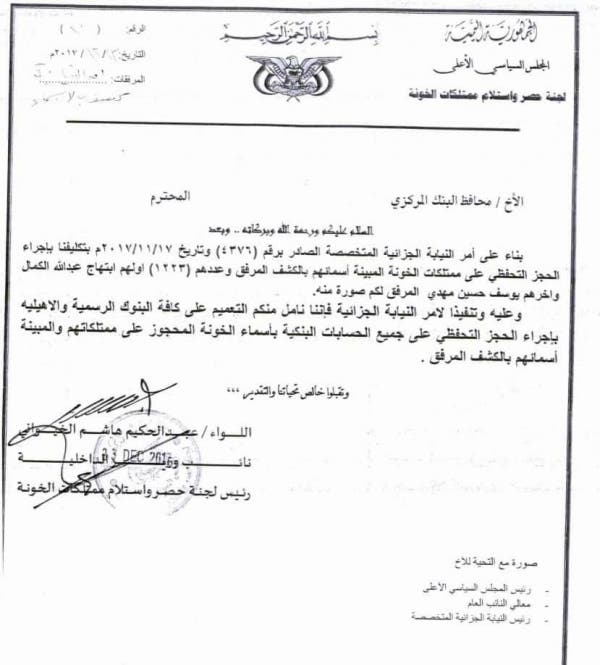 The statements, released under the name of the "Committee for the collection and receipt of traitors' property (CCRTP)" and addressed to the Houthi operated Central Bank of Yemen, included nearly 1223 names the Houthi's have labelled as "traitors."
The list of names starts with the Minister of Social Affairs and Labor in the legitimate Yemeni government, Ibtihaj Abdullah al-Kamal and Yousef Hussein Mahdi.
Heading what they've called the CCRTP is Houthi leader and deputy minister of interior in the illegitimate government Abdulhakim al-Khiwani. This is the first time the CCRTP has been brought to light. The date it was established is unknown.
The committee justified its decision as being based on what it has called the Specialized Criminal Apparatus and therefore requested the Central Bank to circulate its decision to seize accounts and properties to all official and private banks in accordance to the attached memo dated on December 23.