The Yemeni Pensions Association released a document accusing the Houthi militia of stealing two billion Yemeni Riyals (almost $800,000) from funds deposited by the General Authority for Insurance and Pensions from the Central Bank in Sanaa.
The association called on the CEO of the World Bank to pressure the militia to return the money that they stole, and pay them their salaries which they have not received for a whole year, since the beginning of 2017.
The document which was shared on local websites on Sunday said that the Houthi controlled General Authority for Insurance and Pensions has incorporated the rights of retirees into public debt securities, even though the money is private, not public.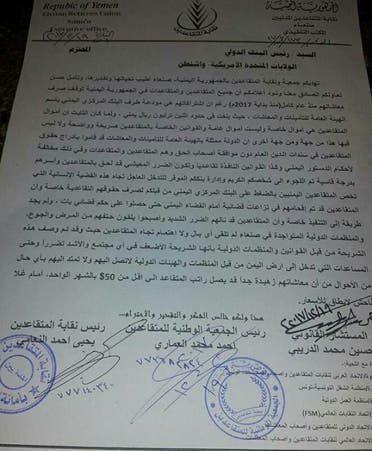 The document added that this is a clear violation of the Yemeni Constitution and laws.
After the stealing incident and their salaries being cut for a year, Yemen's retirees and their families are now considered the country's hardest hit segment since the beginning of the war, the document said.
The association had succeeded in getting a court order forcing the militia to pay them their salaries, which came up to about five billion Yemeni Riyals, however it was not executed.
The administrative court in Sanaa through their court order last November demanded the Central Bank to transfer the monetary amount to the retirees' bank accounts immediately, however the Houthis refused to oblige, the document said.
The number of civilian and military pensioners registered in Yemen's General Authority for Insurance and Pensions is estimated at 140,000 people.