Yemen Information Minister: Abducted journalists tortured in Houthi prisons
Yemen's Information Minister along with the National Organization of Yemeni Media, Sada, revealed in a press conference on Thursday the prison locations and torture methods that they say the Houthi militia uses on abducted journalists.
In their report titled 'The Price of Betrayal', the organization showcased locations in Sanaa and Dhamar where they said abducted journalists are being tortured. They also revealed the names of militiamen who are in charge of these prisons and supervise the torturing process.
The Sada report revealed that 22 journalists were killed over the past three-year crisis, while 55 were subjected to physical and psychological torture and 15 were subjected to severe psychological intimidation methods such as mock execution.

Organization members said that the journalists were abducted from their homes and workplaces.
"The Houthi militia is still raiding and searching several journalists' homes until today," Yemeni Information Minister Muammar al-Eryani said during the press conference.
The organization also said that 25 types of torture methods are being used on journalists in the militia prisons including burning, sleep deprivation, food deprivation and electric shocks.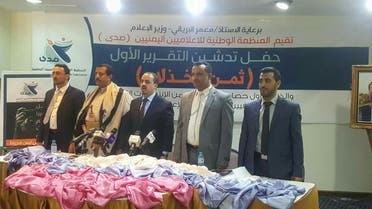 They also added that the journalists' families are banned from visiting them.
"Their families are doing their best to find them to at least find out if they are alive or dead due to the severe torture they are being subjected to," an organization member said.
"We did not know of the abductions until weeks later due to the militia pressuring the families not to say anything," he added.
The organization added that this is now a humanitarian case, not a political one. The International Federation of Journalists released a few statements on the issue, which is not enough, they said.