The Philippines has said that repatriated overseas Filipino workers from Kuwait will receive he will receive $95 (P5,000) in financial assistance and an additional $383 (P20,000) in alternative aid.
The financial assistance was announced by Presidential Spokesperson Harry Roque Jr. and that the Philippines government is exhausting efforts to attend to the needs of repatriated Filipino migrant workers.
"The missions all over the Middle East in particular have been instructed to sign alternative employment for our kababayans who have opted for voluntary repatriation from Kuwait," Roque was quoted by Filipino daily Sun Star Manila.
The Philippines Monday expanded a ban on its citizens working in Kuwait after President Rodrigo Duterte angrily lashed out at the Gulf state over reports of Filipino workers suffering abuse and exploitation.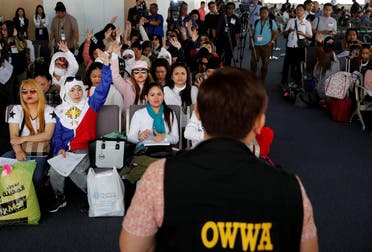 Authorities say 252,000 Filipinos work in Kuwait, many as maids. They are among over two million employed in the region, whose remittances are a lifeline to the Philippine economy.
The fresh move came after Duterte last month barred Filipinos from seeking work in Kuwait, although the ban exempted those who had already secured permission.
Last Friday Duterte hit out at Kuwait as he brandished photos reportedly of a Filipina maid found in a freezer, saying she had been "roasted like a pig".