The Saudi border guards in the southern regions of Jazan, Najran and Asir managed to thwart several attempts to smuggle large amounts of (hashish) cannabis.
This comes within the extensive work done by the border guards foiling attempts to smuggle drugs in all its forms and protecting the youth of the Saudi Kingdom from its dangers.
The official spokesman of the Saudi border guards said that an attempt to smuggle more than half a ton of cannabis was stopped by the Forsan sector in Jazan region.
He added that the involved smugglers exploited the hunting profession to mislead the seven security men, including five Saudis and two Yemeni nationals, as they tried to hide a total of (350) kilograms of the cannabis drug.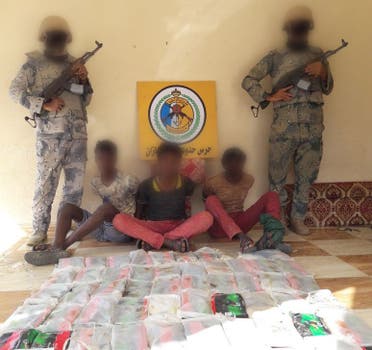 They buried it in one of the islands of the province of Fursan, in preparation for delivering the load to their partners.
The Department of Drug Control in Jazan area seized (268) kilograms of cannabis drug, hidden in another location, bringing the total of the seized cannabis drug in this security operation to (618) kilograms.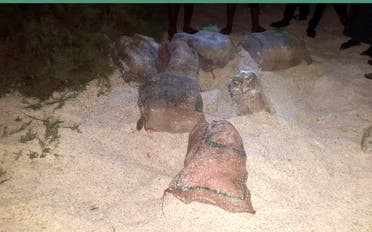 Earlier, a number of smugglers coming from the Yemeni territory were being monitored for trafficking narcotic substances, which required dealing with them firmly and forcefully.
As a result, a total of 22 smugglers were arrested, 17 of whom were Ethiopian smugglers, 5 smugglers were of Yemeni nationality, and the total seized amount was (1056.42) kg of cannabis.