Qatari media outlets have been accused of misleading reports after it completely omitted Iran from a White House press release statement regarding US President Trump's phone call with Emir Tamim al-Thani.
All reports on the call that quoted Qatari outlets such as Qatar news agency, Doha's newspapers, both Al Jazeera Arabic and its English language channel, on air and online, failed to mention that Trump emphasized the need to highlight the "ways all Gulf Cooperation Council states can better counter Iranian destabilizing activities and defeat terrorists and extremists".
The White House press release statement made two other points of "enhancing American-Qatari relations" and the "GCC's role in mitigating regional threats and ensuring regional economic prosperity".
But the key point of Trump Qatar and GCC efforts in countering Iran's destabilizing activities was completely ignored.
Since the start of the GCC rift with Qatar in June of last year, the Iranian-Qatari relationship has expanded, leading many analysts and political experts to suggest why Qatari-media are cautious to mention any anti-Iran sentiments.
White house statement in full: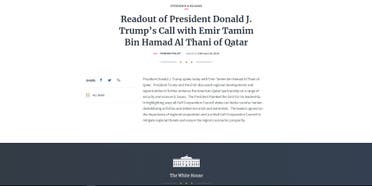 Al Jazeera's report on the White House statement: