The battles of the Yemeni army moved to the north-east gate of the capital Sanaa advancing towads Horan, the first district in Arhab northeast of Sanaa near Nahem.
This marks a significant milestone for the Yemeni army, supported by the Arab coalition forces, to restore the capital Sanaa from the control of the Houthi militia, and to end its coup, given the strategic importance of Arhab area.
The strategic importance of Arhab
Arhab is located northeast of Sanaa, north of Bani al-Harith Directorate near Sanaa. It is about 25 km long and its borders are connected in the north and west with the governorate of Amran (the northern gate of Sana'a).
From the eastern side it is connected to Nahem, and both areas (Arhab and Nahem) constitute the majority of the capital's total area.
Arhab, is considered one of the largest zones for Baqil tribes in yemen, as it connects three governorates: Sanaa, Amran and Al Jouf, and falls under the dominion of Sanaa.
It also overlooks Sanaa International Airport and Delami Air Base.
It has an area of 1308 km and at the center of the district lies (Beit Maran). Arhab has 240 villages spread over 15 districts.
Strategically, in the current battles against the Houthi militia, the military engagement across Nahem and Arhab tribal areas narrows the access to the city of Sanaa from the north-east and the north, especially as the Ahrab tribes extend geographically to the outskirts of Rida town in Amran governorate.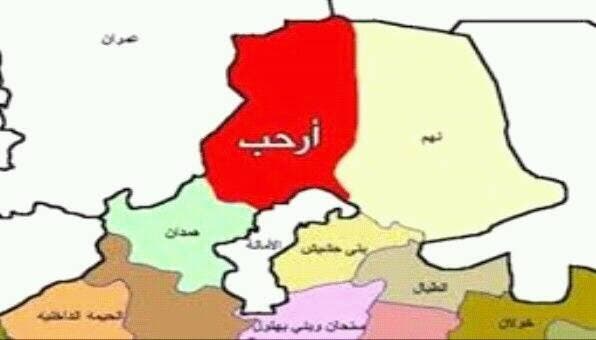 From Arhab, it is possible to move westward to Amran governorate to cut the road between Sanaa and Saada.
The tribe of Arhab, where there is no support for Houthis, has many tribal clans reaching to the Shibam and Hamdan area in the north of Sanaa.
The tribes might confront the Houthis after their backlash against them since the coup, and with the support of Hamdan tribe can circle Sanaa and close the roads connecting it with the governorates of Saada, Hajjah and Mahweet.
This story is also available in Arabic.