Saudi Crown Prince reviewed with the UK Defense Secretary Gavin Williamson the means of strategic cooperation and developing defense, military and anti-terrorism efforts on Friday at the North Holt Air Base.
Upon the arrival of Saudi Crown Prince Mohammed bin Salman to the military base, Typhoon fighter jets performed a fly-past to welcome him, along with a guard of honor while the national anthems were played.
The meeting reviewed bilateral relations and areas of strategic cooperation between the two countries, and the means of developing them, especially in the defense and military arenas.
The two parties discussed as well the promising opportunities in accordance with the Saudi Vision 2030, the developments in the Middle East and the world, and the efforts to combat terrorism.
The two sides expressed their satisfaction with the mechanisms of their joint coordination thereon.
Also read: Mohammed bin Salman and the battle of London
Prince Mohammed and the British Minister of Defense signed two memorandums and coordinated arrangements to strengthen defense capabilities and deepen cooperation and partnership through the transfer of technology, industrial partnership, training, research and development and technical consultation in accordance with Vision 2030.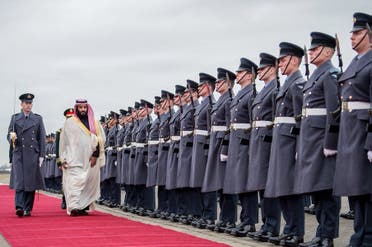 The Crown Prince also inspected a number of BAE Systems' products and the contribution of Saudi companies working in the military field and he was briefed on the company's future plans to further transfer and localize technology, train and employ Saudi citizens.
The meeting was attended by the military delegation accompanying the Crown Prince and senior officials of the British Ministry of Defense.