Halat Ammar customs office on the Saudi border with Jordan, northern Saudi Arabia foiled an attempt to smuggle a quantity of 77.900 tablets found in a passenger bus that was coming into the Kingdom.
The general manager of the Customs Khalid Al-Rumaih said: "A bus carrying passengers had a quantity of 77.900 tablets which were found hidden inside (3) plastic food baskets. The base for each basket had some grain inside and some food to camouflage the packs, and inspectors took the necessary action "
The General Administration for Drug Control in Saudi Arabia has thwarted many attempts to smuggle drugs inside the Kingdom, uncovering many tricks by smugglers despite their diverse methods. and the attempts of smugglers to find modern ways to bring drugs into the Kingdom, but this is matched by the professionalism and vigilance of customs officials detecting such methods.
The General Directorate of Narcotics Control (GDNC) published several pictures showing the new methods used by criminals in smuggling drugs, especially the Captagon pills, including smuggling inside sheep's intestines, tangerine fruit, tomatoes, lettuce, peanut flakes, skin cream cans, filters and car parts, water tanks, gas cylinders and many others.
Drugs in the guts of dead goats
A number of drug smugglers used dead goats to smuggle drugs, but the Saudi customs were able to extract them from inside the guts of 204 corpses.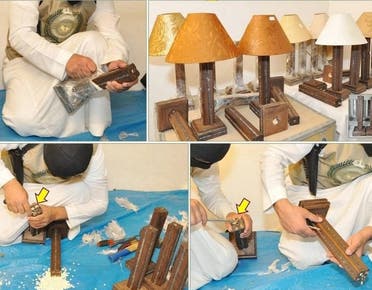 Onions
Another shipment was hidden in onions, but the customs inspector suspected it and started slicing some, only to find inside a plastic bag containing narcotic substances.
Bread, pastries and soft drinks
Other passengers were passing the crossing before the customs officers suspected that one of them carried amounts of pills inside the bread and pastries.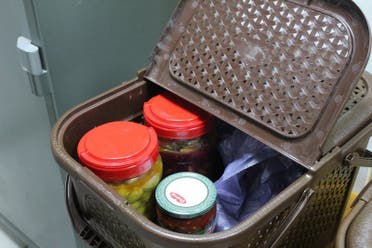 The inspectors confiscated 52,000 narcotic pills leading the customs officers to search for more before finding another with the same sample of bread filled with 46,000 Captagon pills; some of it were inside cans of soft drinks.
Lemon and orange
Another load of seized oranges and lemons had the pulp removed from the inside and stuffed instead with 51,000 pills.
Vegetable margarine
Some confiscated tins contained frozen vegetable ghee, and they were also stuffed with 572,000 Captagon pills.
Wooden book holders and daily diaries
The Saudis were angered by the news that they found narcotic pills in wooden Quran holders in Haditha customs. Smugglers did not succeed in deceiving the customs officers who found two million narcotic pills stuffed in these book carriers and were trying to exploit their sacred code to pass without inspection.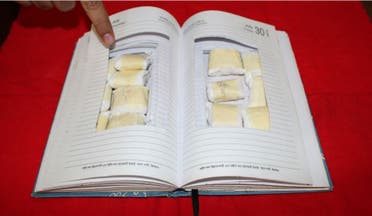 Dentures
At Prince Mohammed bin Abdulaziz International Airport in Madinah, 6 grams of opium, were found stuffed inside a denture placed in a passenger's mouth, in a sophisticated attempt to use his body since swallowing drugs to hide them inside the stomach became an old, known trick.