Qatar playing with fire by backing terror groups, says ex-US defense official
A former US defense official called for Doha to modify its foreign policy of "talking with anyone", stop its support of terrorism and "make financing terror inside the country and outside a criminal offense if it wants to actively seek an end to its diplomatic crisis with its neighbors."
Dov S. Zakheim is a Senior Advisor at the Center for Strategic and International Studies and Senior Fellow at CNA Corp, was the Under Secretary of Defense (Comptroller) and Chief Financial Officer for the Department of Defense (DoD) from 2001 to 2004, and involved in negotiating the expansion of the al-Udied Base in Qatar the early 2000s.
"For Qataris, to be able to speak to anyone has been an essential part of their foreign policy. The trouble is, it seems to have now caused them some real problems," Zakheim told Al Arabiya English.
"Nobody is telling them not to talk to anybody. The question is how intensely they talk and how much they talk," he added.
Concern on The Hill
In June 2017, Saudi Arabia, the UAE, Bahrain, and Egypt severed diplomatic and economic ties with Qatar after accusing it of supporting and financing terror and extremist groups across the region.
The former DoD official said that there was a lot of concern on The Hill, especially among the Republican majority, as to Qatar's relationship with "Islamist groups such as Hamas, especially given the current tensions with Israel over the Gaza border."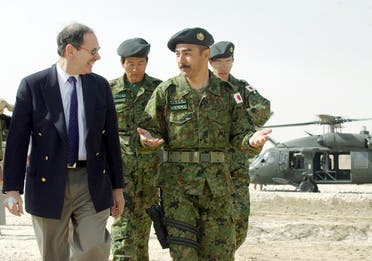 "This particular Republican party and Republican majority in Congress won't just sit back and accept this. There's no appetite for accepting it. Of course, Hamas is getting more and more desperate because they know very well that after 10 years they simply cannot govern Gaza," Zakheim said.
'Qatar playing with fire'
Zakheim, who from 2002 to 2004 was also the DoD's coordinator of civilian programs in Afghanistan and from 1985 to 1987 was Deputy Under Secretary of Defense for Planning and Resources, also said that it was not only Qatar's support for Islamists and the Muslim Brotherhood group that worried US politicians but more specifically of supporting and talking to militia groups like Hezbollah in Lebanon that "want to change the face of the region to a radical one".
"In many ways, I think Qataris are playing with fire because if they think that they can support these types of groups I think they're making a huge mistake," he said. "They would go down in flames just like everybody else in the region. On the one hand, we'd like to see the Qataris make it up with the rest of the GCC and Egypt. But at the same time, we really think they're playing with fire and probably would endanger themselves as much as everybody else," he added.
Steps forward
Qatar, according to Zakheim, has taken steps to fix its problems with its neighbors and their allies but stopped short of following through on meaningful change. On March 22, Qatar released its own terror list that included individuals and entities already listed under the one issued by the Anti-Terror Quartet.
"There are a number of things Qatar can do. For a start, they could make it clear that it is a crime inside Qatar for any individuals to finance these groups. I don't believe they have done that," Zakheim told Al Arabiya English.
"To have a memorandum of understanding is one thing, to make it a criminal offense is another. If you want people to stop doing bad things, you make it a criminal offense and you throw them in jail. I suspect that a lot of people who might be financing these groups privately would not like to go inside a Qatari jail," he said.