A cooperation deal between France and Saudi Arabia to develop the Saudi city of Al Ula is expected to be a central highlight of Crown Prince Mohammad bin Salman's current visit to Paris.
Within the deserts of Saudi Arabia lies Al Ula, a 2,000-year-old city richly endowed with archeological remnants. It was founded in the 6th century BC in a location that was at the center of trade routes for silk and spices through India, Arabia and Egypt.
The location is where the tribe of Thamud, the people of Prophet Saleh, used to dwell north of the peninsula. It includes archeological remnants belonging to the ancient Kingdom of Lihyan, which ruled from the 5th to 2nd century BC.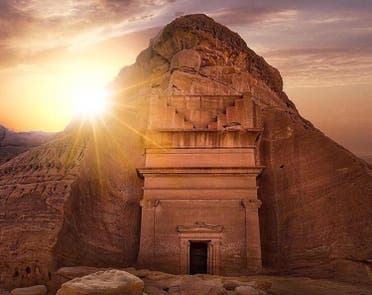 It is also believed that Prophet Muhammad has passed by the abandoned city on his way to the battle of Tabuk, in 630 AD.
The Saudi government has decided last June to launch efforts to restore the old city to preserve its historical and cultural essence, and utilize investment opportunities in the region.
The Saudi-Franco deal will happen over the course of ten years, during which the French side will establish an entity to oversee the project. The cost of the project is unknown so far.
Gerard Mesrllet, appointed as the French president's special envoy for Al-Ula, described the agreement as "unprecedented."