EXCLUSIVE: Wedding of 'most dangerous' terror sponsor's son celebrated in Qatar
In another instance of a known terror financier being out in the public, Qatari press and media outlets published photographs and congratulations of Abdulrahman al-Nuaimi with his son during his wedding recently in Doha.
Nuaimi was designated as terrorist by the US government in December 2013 and the UN in September 2014 for providing financial support to terrorist organizations in the region.
The US Department of the Treasury described Nuaimi, 64, as providing millions of dollars to Al Qaida in Iraq.
Nuaimi was Qatar's former head of its national Football association and was the founder and board member of the Qatar-based Eid Charity that was listed as a terrorist entity by the Anti-Terror Quarter of Saudi Arabia, UAE, Bahrain in Egypt last year.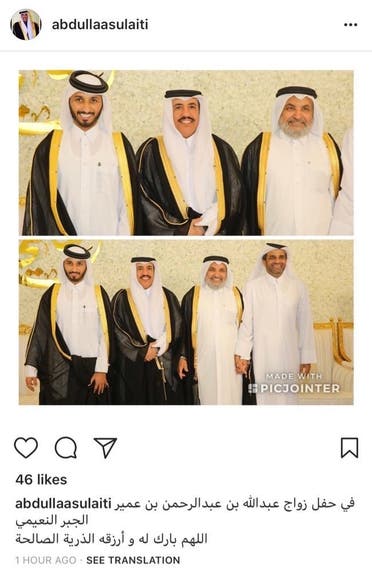 Nuaimi was among the ten named under Qatar's terror list released in March.
In details published by Qatari newspaper Al-Raya on Wednesday, congratulations were in order from the media outlet on the wedding of Nuaimi's son of. "Dr. Abdulrahman bin Omair al-Jaber al-Nuaimi celebrates his son's wedding this evening, Congratulations," read the blurb under photos showing the wedding.
Al Arabiya took a look at several social media accounts belonging to Nuaimi's sons, a number of pictures emerged from the wedding showing a number of prominent Qatari personalities. Among the guests at the wedding was Abdullah al-Sulaiti, who identifies himself as an "adviser in the oil industry and writer with Qatari newspaper al-Raya, former editor-in-chief of Qatari newspaper al-Sharq".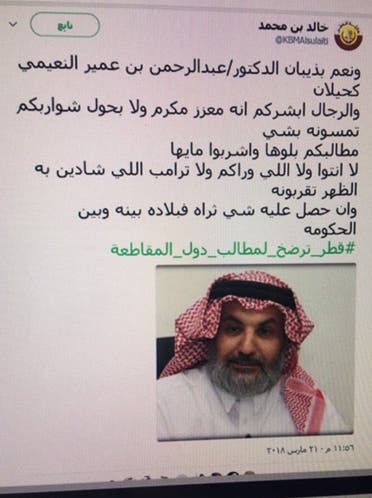 The British government has recently listed Nuaimi, the current head of the Geneva-based al-Karama Center for Human Rights, on their sanctions list for suspected funding of militant groups. Britain's decision came 10 months after Qatar's Nuaimi was placed on the US embargo list, a British government spokesman said.
The US Treasury Department said in December 2014 that Nuaimi "is one of the most important supporters of hard-line Sunni Iraqis in Qatar and is believed to have transferred more than $2 mln a month to al Qaeda in Iraq for a certain period."