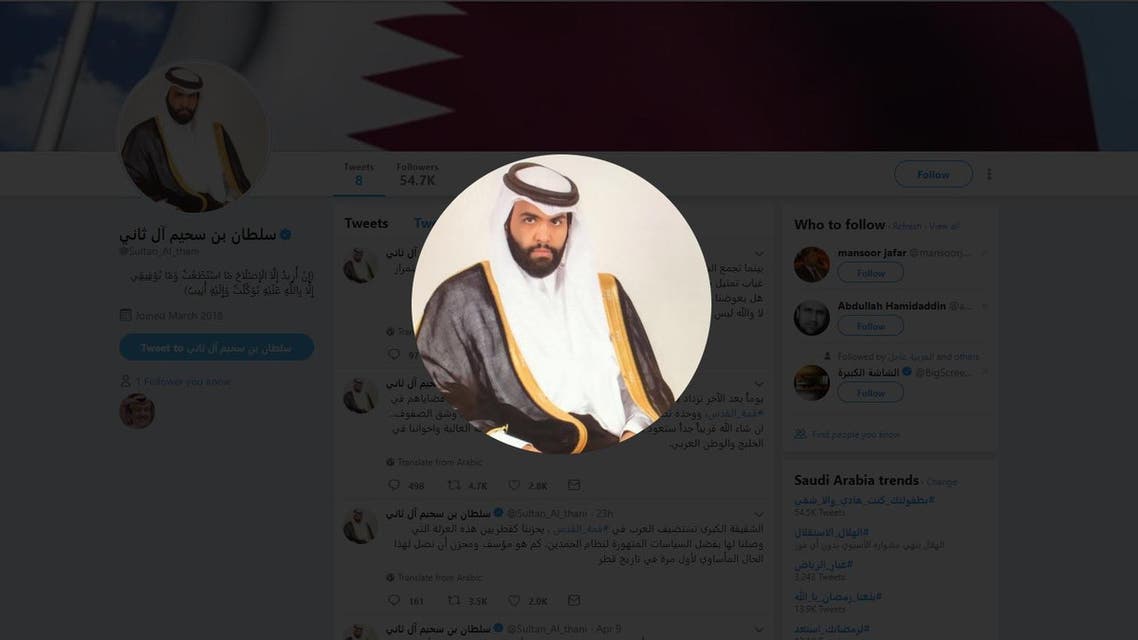 Sheikh Sultan al-Thani: Qatar belongs to its people despite regime isolation
Sheikh Sultan bin Suhaim al-Thani continued his remarks about the growing isolation of Qatar with its Arab neighboring due to the practices of what he called the "two Hamad regime".
The opposition sheikh tweeted his criticism of the Qatari regime over the absence of Doha's troops in the largest joint Gulf Shield 1 military exercises in Saudi Arabia which concluded on Monday.
"As the great neighbor gathered Arab leaders in the Gulf, I sadly follow the absence of my country's official representation due to its isolation caused by the two Hamad regime. Will the Turkish and Iranian compensate for this isolation?! No, I swear we do not have anything other than our people, our Gulf and our Arab heritage. Soon we will return to them against two Hamads," Sheikh Sultan tweeted.
بينما تجمع الشقيقة الكبرى القادة العرب في #درع_الخليج_المشترك1 ، أتابع بحزن استمرار غياب تمثيل بلادي الرسمي بفعل عزلتها التي تسبب بها نظام الحمدين.
هل يعوضنا التركي والإيراني عن هذه العزلة؟!
لا والله ليس لنا إلا أهلنا وخليجنا وعربنا وقريباً سنعود لهم رغماً عن أنف الحمدين

— سلطان بن سحيم آل ثاني (@Sultan_Al_thani) April 16, 2018
Al-Thani's tweet came a day after Arab world leaders gathered in Saudi Arabia's Dhahran for the 29th Arab League Summit where the summit focused on status of Jerusalem and Iran's aggression in the region. The Qatar crisis was not part of the summit's agenda.
Sheikh Sultan's father, Sheikh Suhaim bin Hamad bin Abdullah al-Thani, was a member of the ruling family of Qatar who served as the country's first foreign minister. His brother, Khalifa bin Hamad al-Thani, was the emir of Qatar at the time.
His son, Sultan, became one of the first to publicly oppose from the current ruling family led by Emir Tamim bin Hamad when several countries decided to sever ties with Qatar over its support and financing of terrorist groups and interfering in the internal affairs of neighboring countries.